Users are an essential asset to an LMS. When users are supported, managed, and organized properly, then learner success increases and LMS administrators achieve their objectives.
Create a User
Go to People > Click User Manager > Click New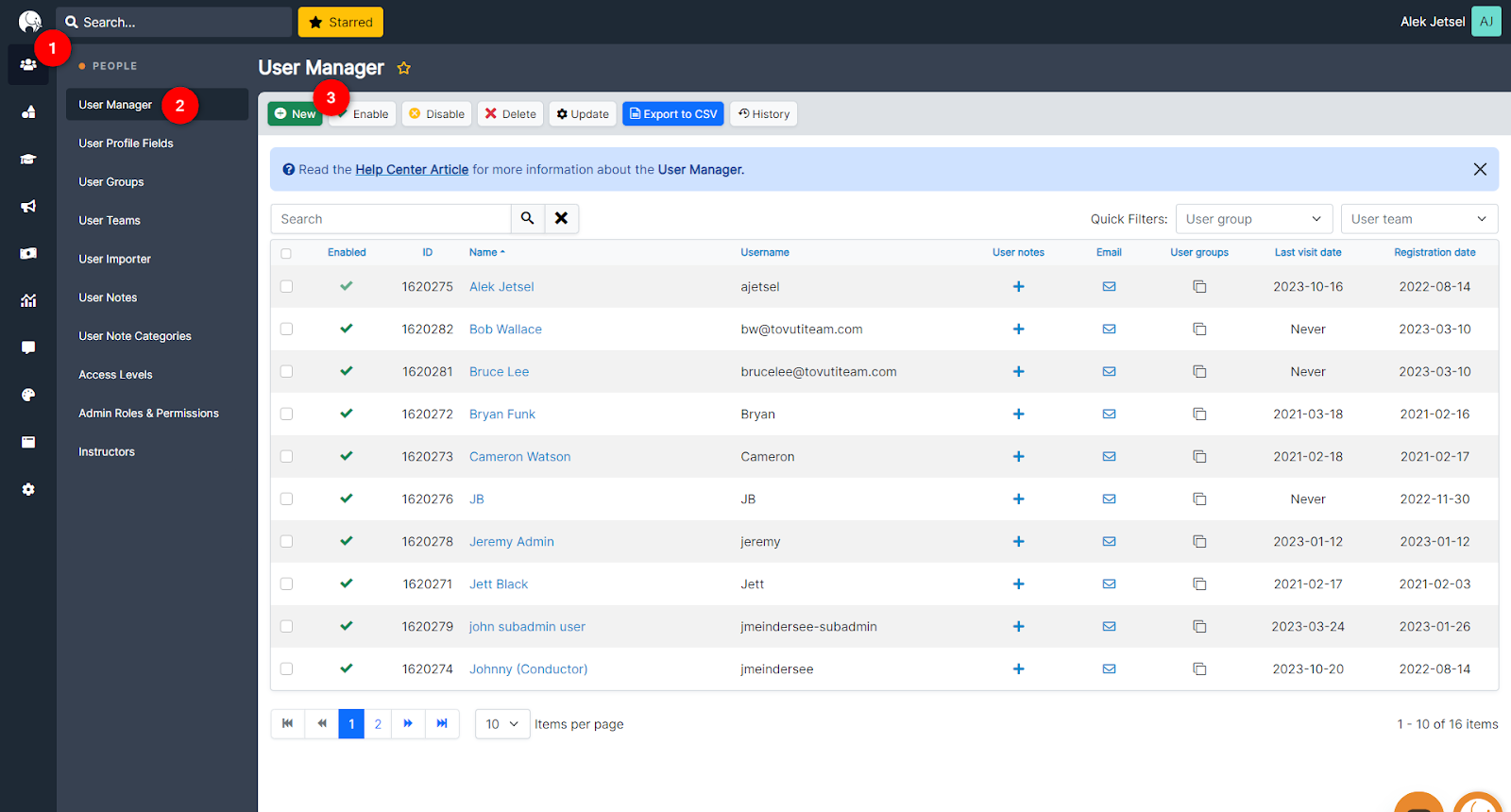 Account Details tab
In the Account Details tab, set the essential information for this user. This includes System Fields, Profile Fields, User Actions, and User Details.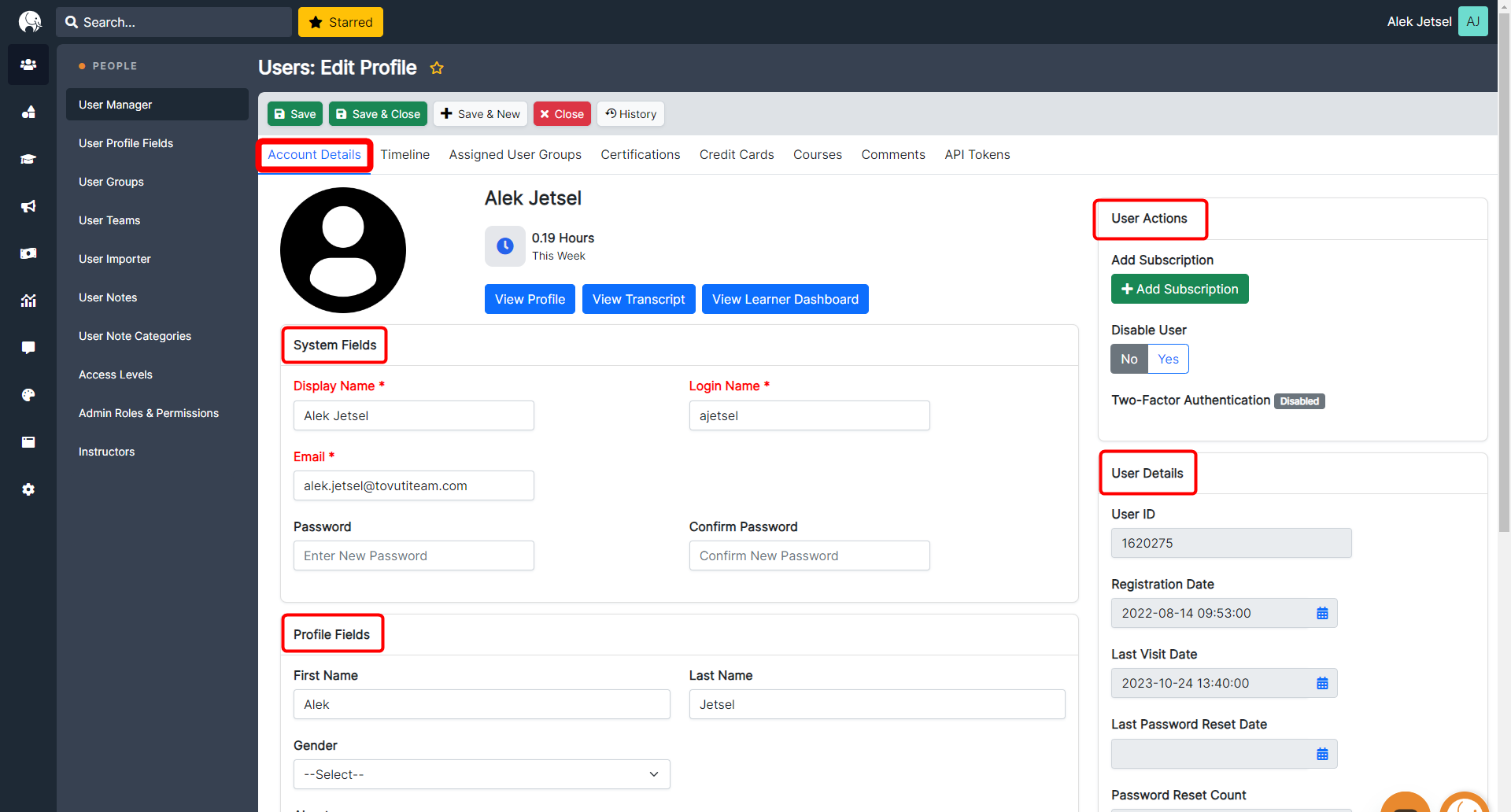 Assigned User Groups tab
In the Assigned User Groups tab, choose the appropriate user groups for this user.
For an LMS with 300 or more user groups, the user group selector changes to a select box from a checklist.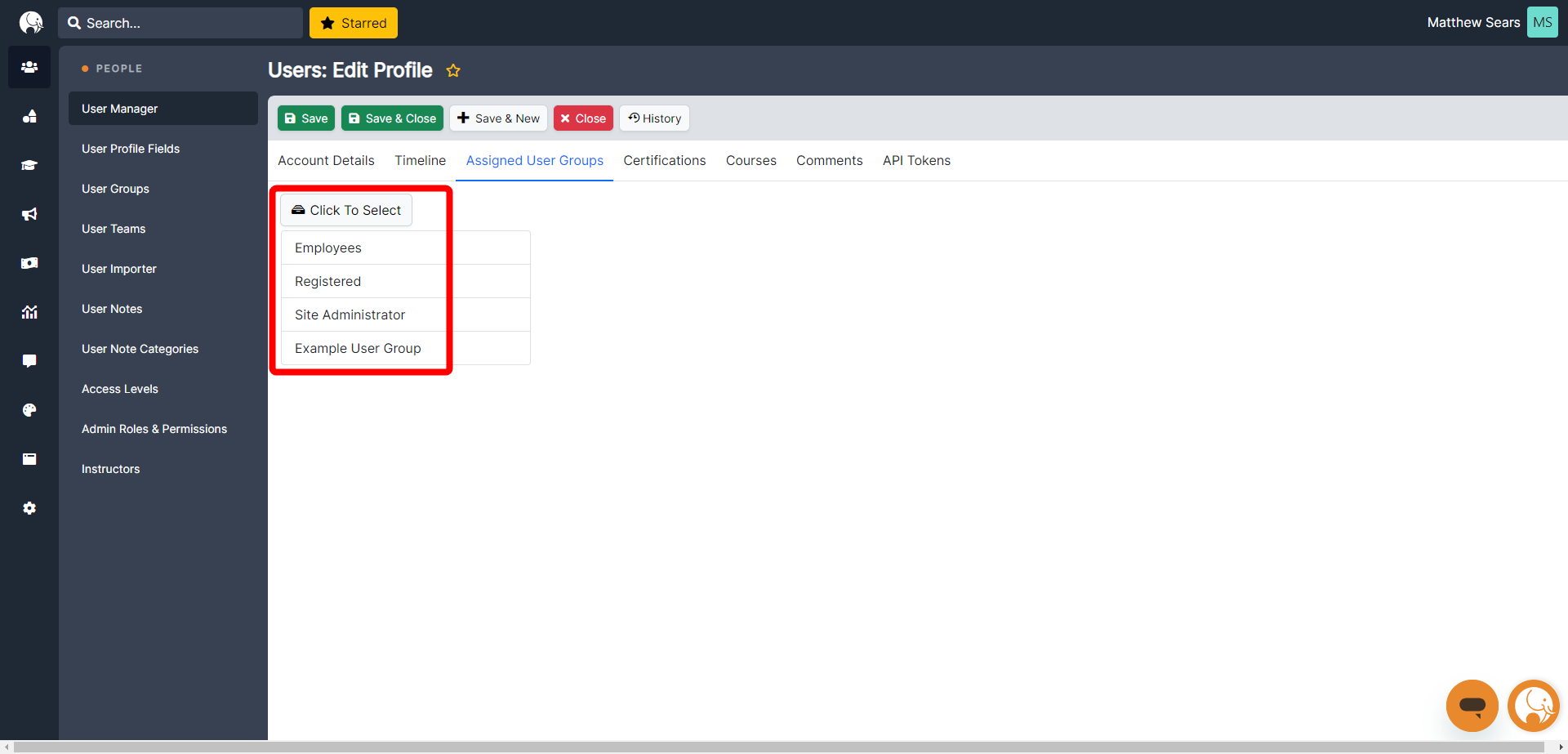 Bulk Import Users
Users may be bulk-created through the User Importer. This is helpful for administrators who are migrating from another LMS or otherwise have a list of users to bring into the system.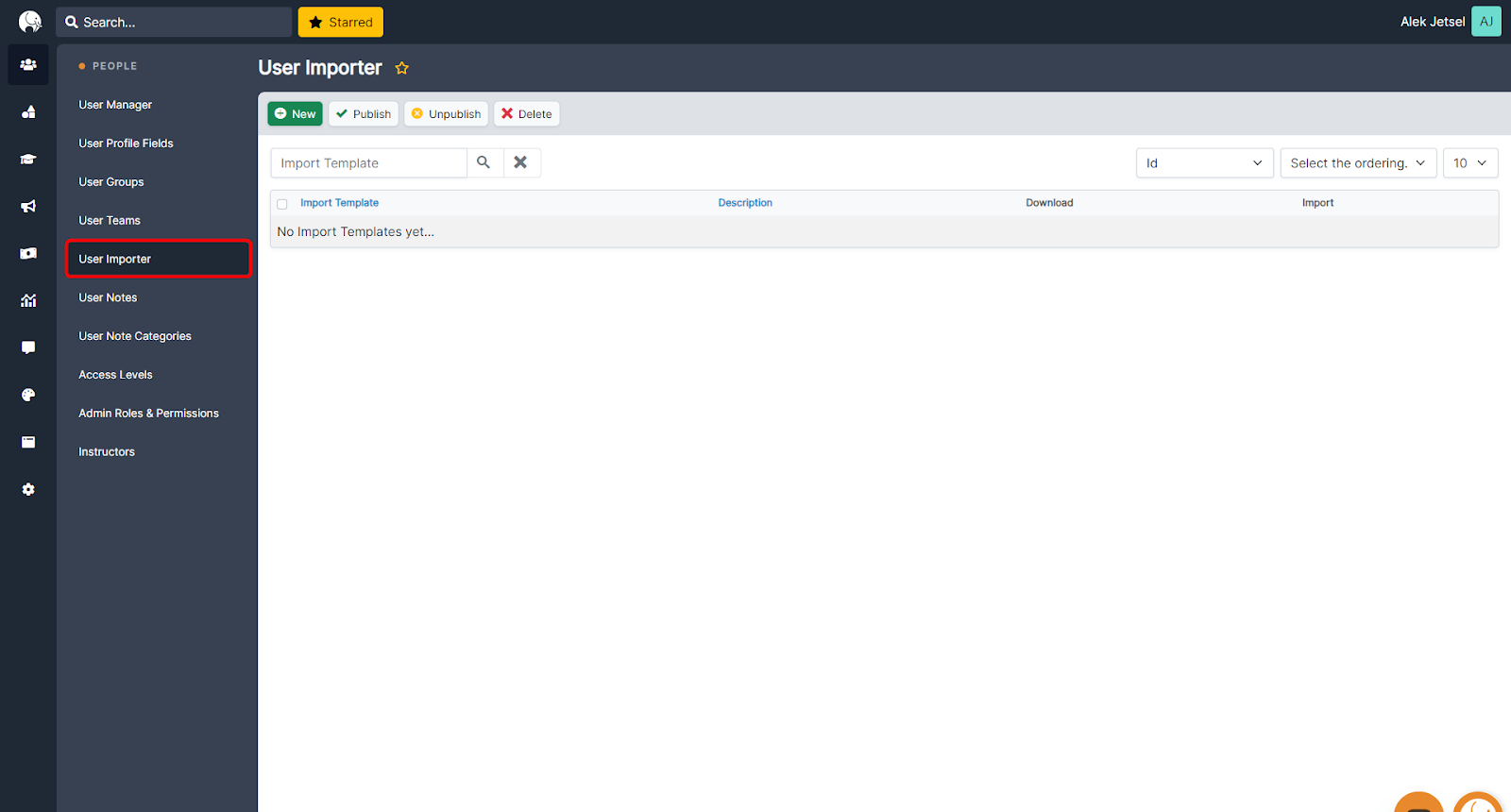 Manage Existing Users
All existing users are shown in the User Manager list view. Search for a specific user or Quick Filter by User group or User team. The User Group quick filter shows all users assigned to that group, and the User Team shows all leads and members assigned to that team.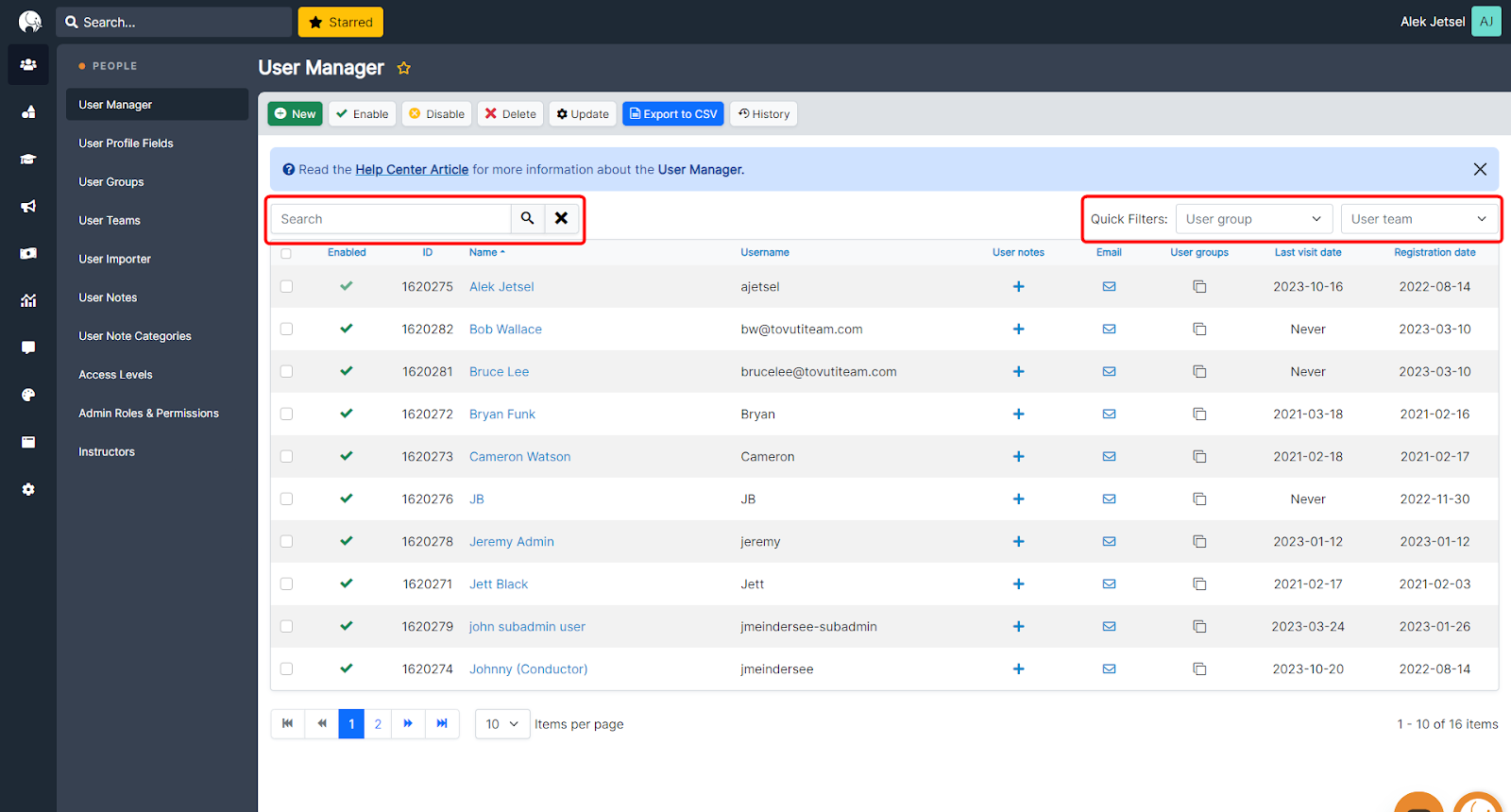 Complete any of the following quick actions from the list view, or click on a user's Name to transition to the User edit view.
Add a

User Note

Email the user directly
View assigned

User groups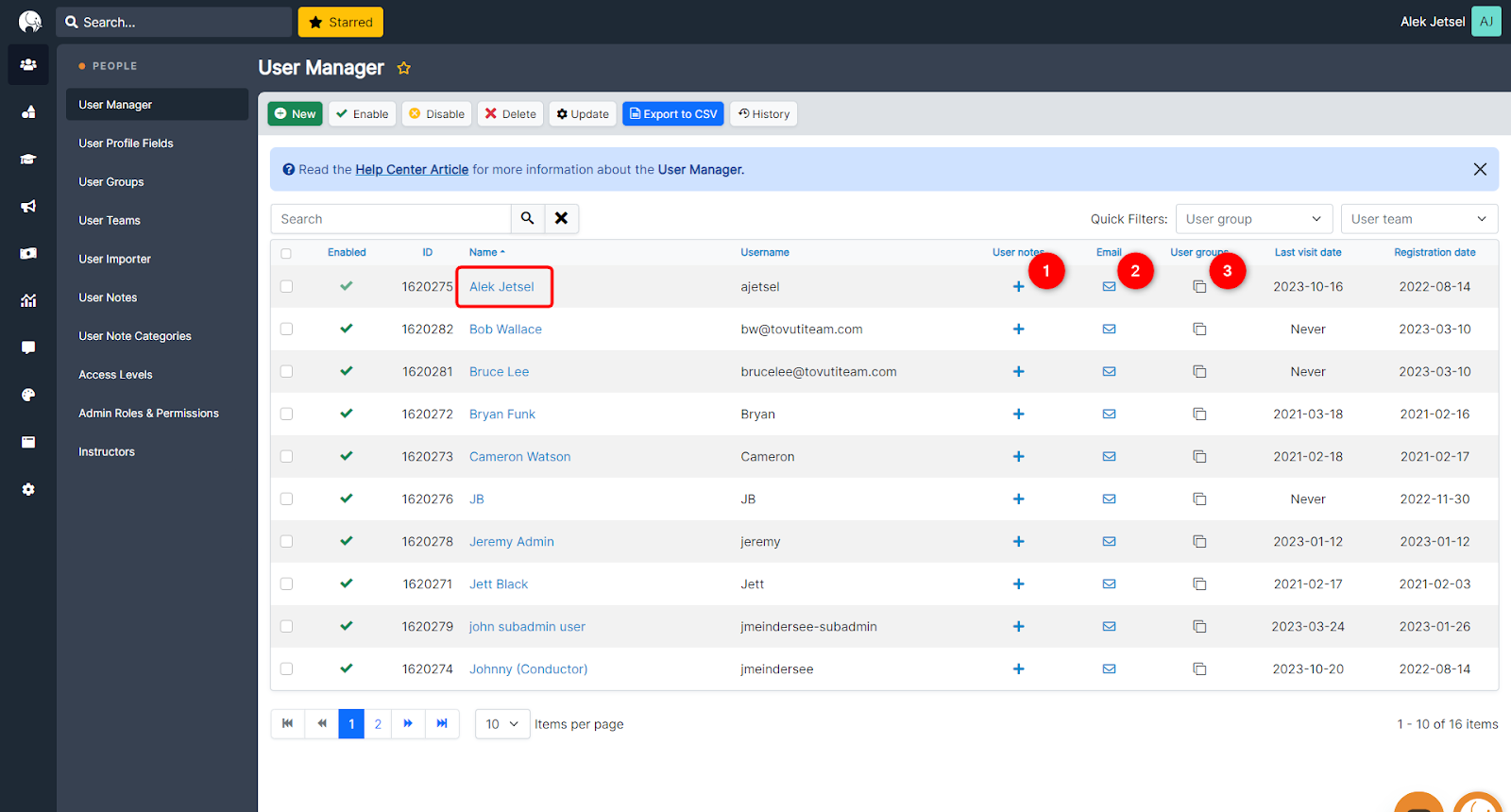 Bulk Update Users
Admins may update various users simultaneously with the Update button.
Select the desired users and click Update.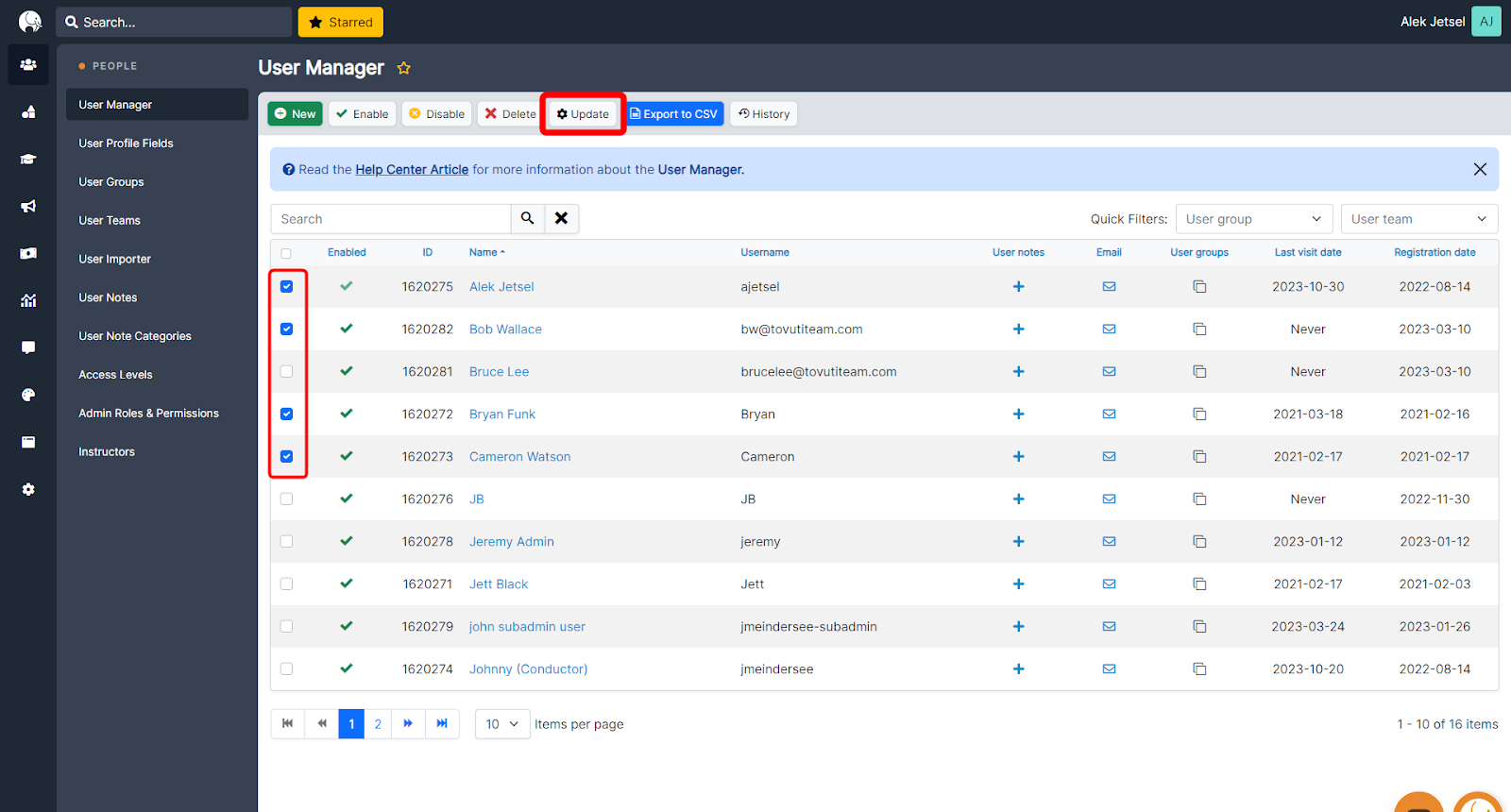 Add, Delete, or Set the user group assignments and select if a Password Reset is required. Click Process to save the updates.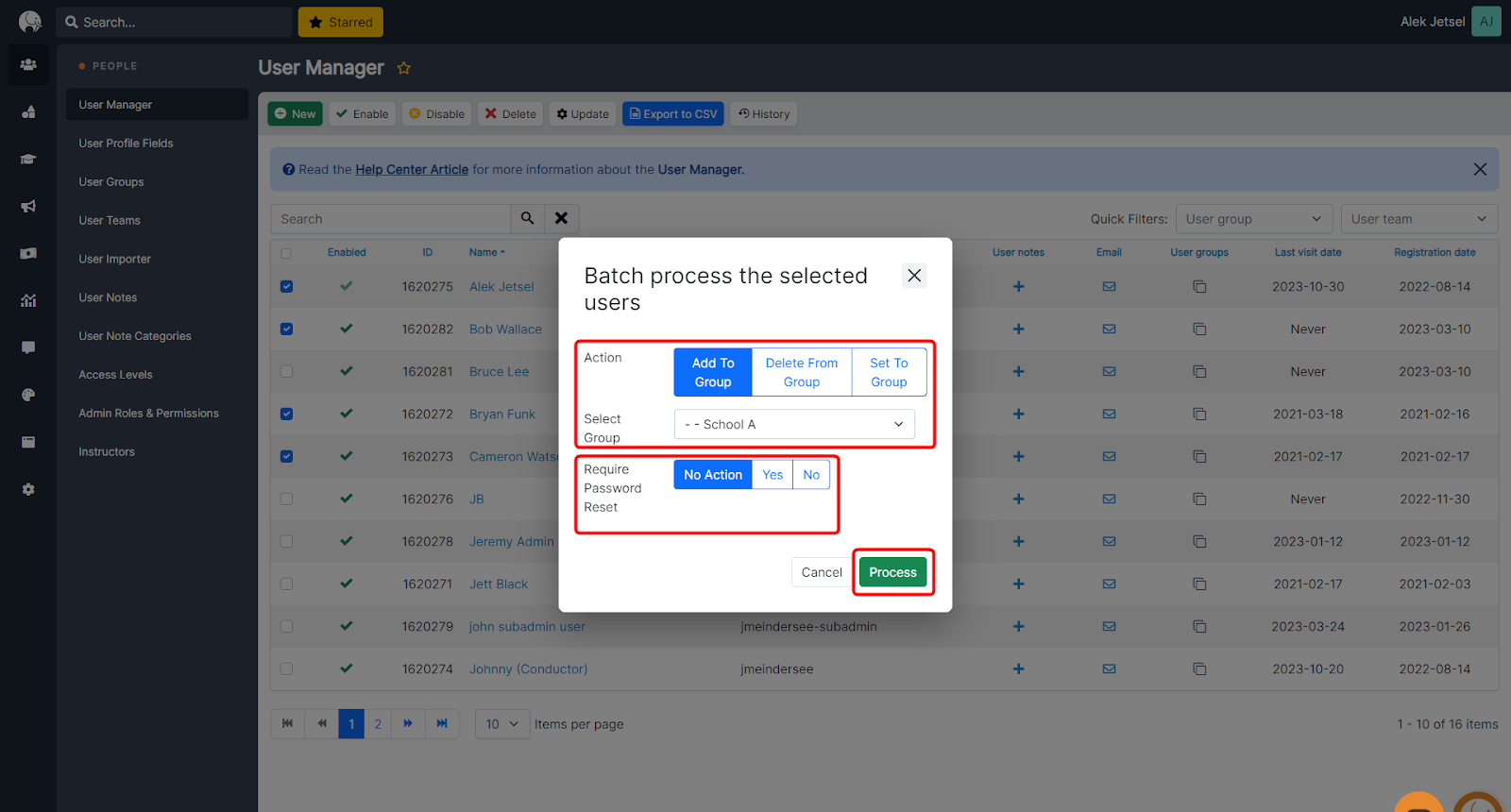 Export Users
Click Export to CSV to download all pages of the user list. Any active filters or search results are reflected in the export.
Exporting allows Admins to manually import a list of users into another platform, or otherwise analyze user data outside of Tovuti.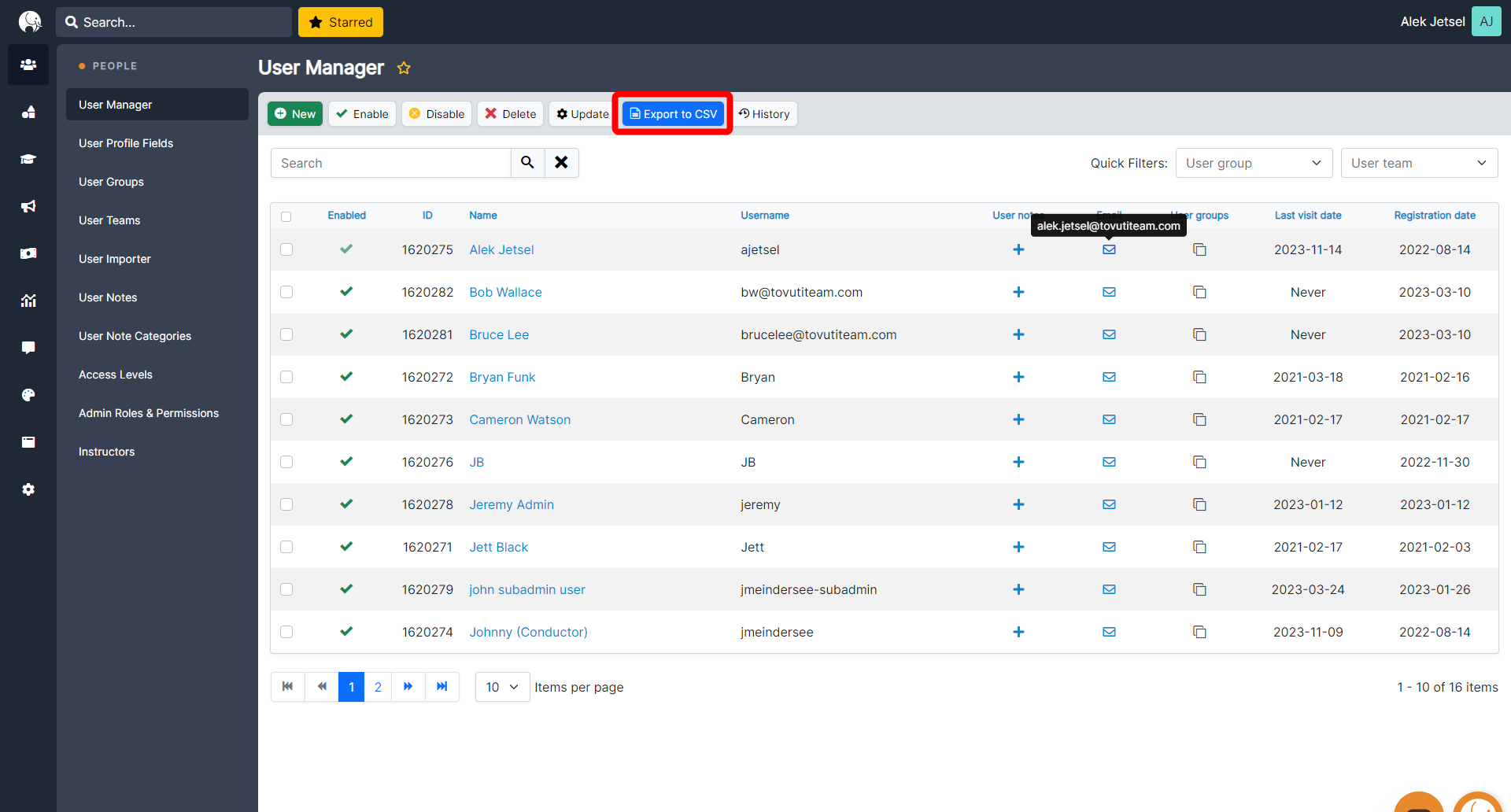 Admins can click on a user's name to access the Edit view.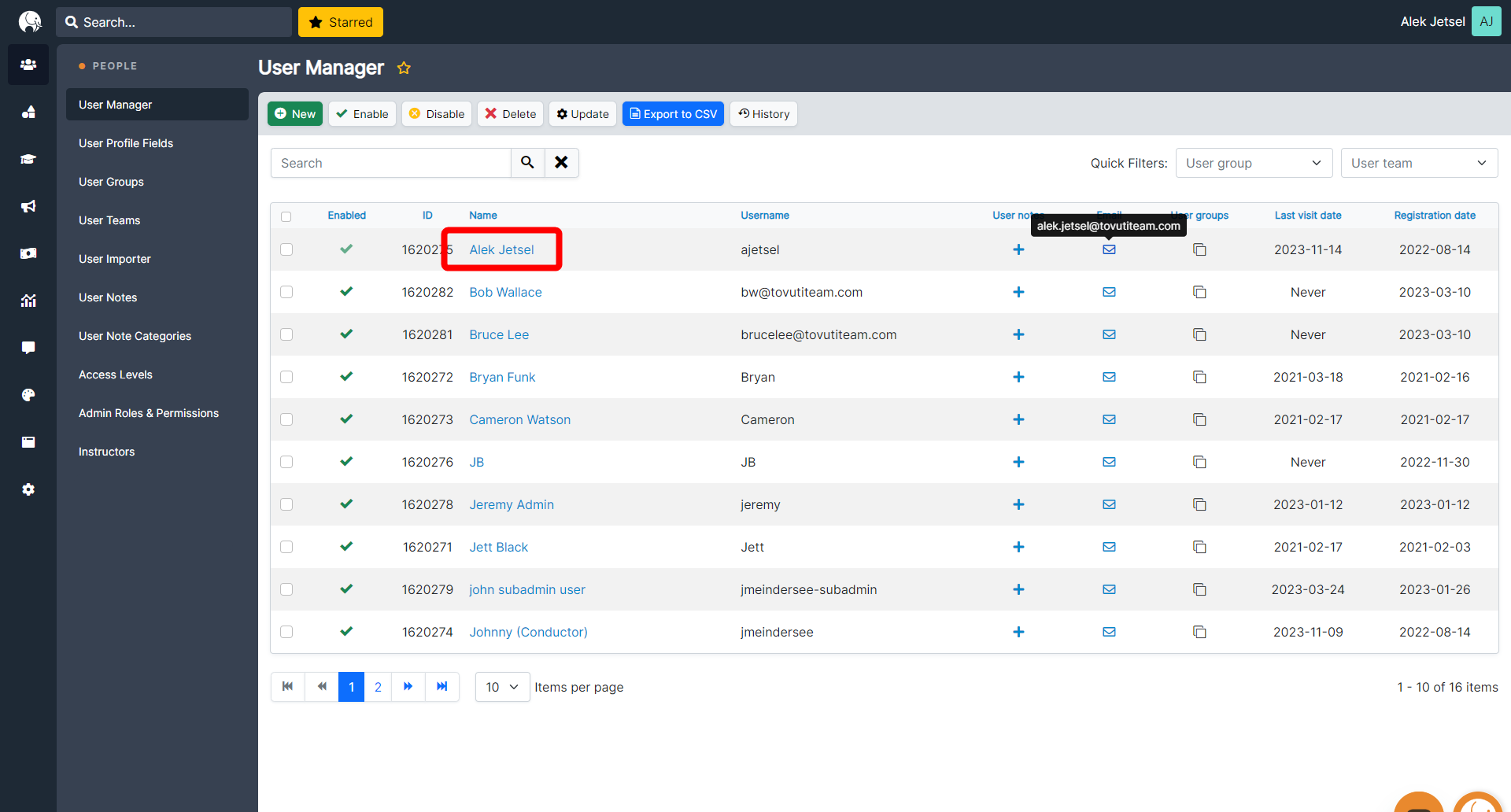 While in the User edit view, Admins may configure additional settings in the following tabs.
Account Details tab
Admins may complete actions such as:
View a

user's portal view

(profile, transcript, and Learner Dashboard)
Edit user system fields
Edit user

profile fields

Perform User Actions
Assign

User Objects

(Private Access Feature)
Delete User
Timeline tab
Admins may view a history of the User's activity in the LMS and perform various actions such as issuing refunds and canceling subscriptions.
Certifications tab
Admins may view, edit, or delete a user's existing Certificates and Badges.
Admins may also manually award a certificate or badge to the user.
Credit Cards tab
Admins may edit payment information for this user or delete an existing card.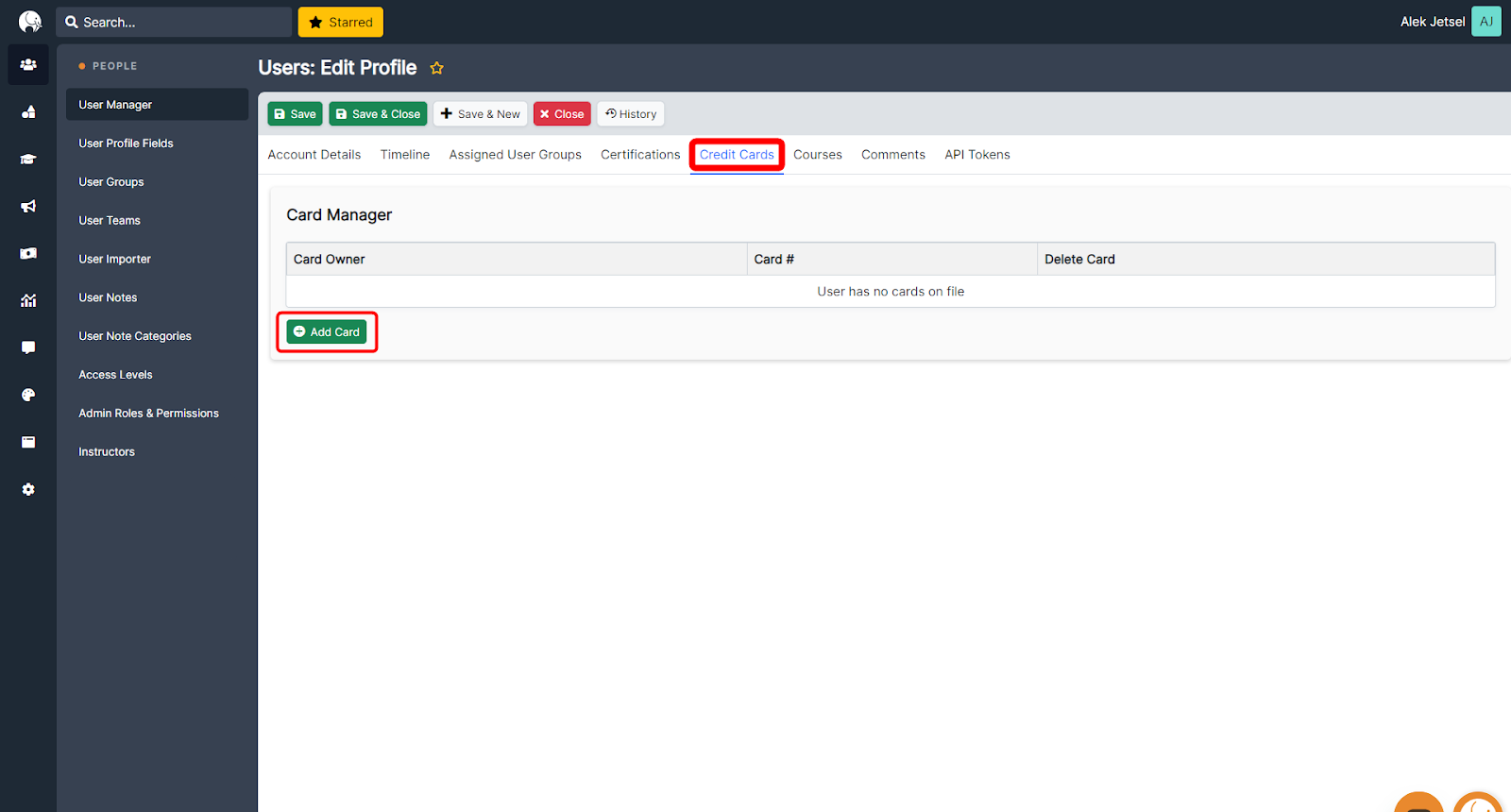 Courses tab
Admins may purchase and edit Course progress for the user.
Comments
Admins may view the comments Users have left about courses
API Tokens tab
Admins may create tokens for integration with other applications
Click Save.