Lessons contain an organization's learning content; curriculum, activities, and other resources that teach Learners. Lessons are the building blocks that make up a Course. A Course is a shell and Lessons are the pearls within.
For example, in an Arithmetic Course, the Lessons may include Addition, Subtraction, Multiplication, and Division. 
Go to Learning > Click Lessons > Click New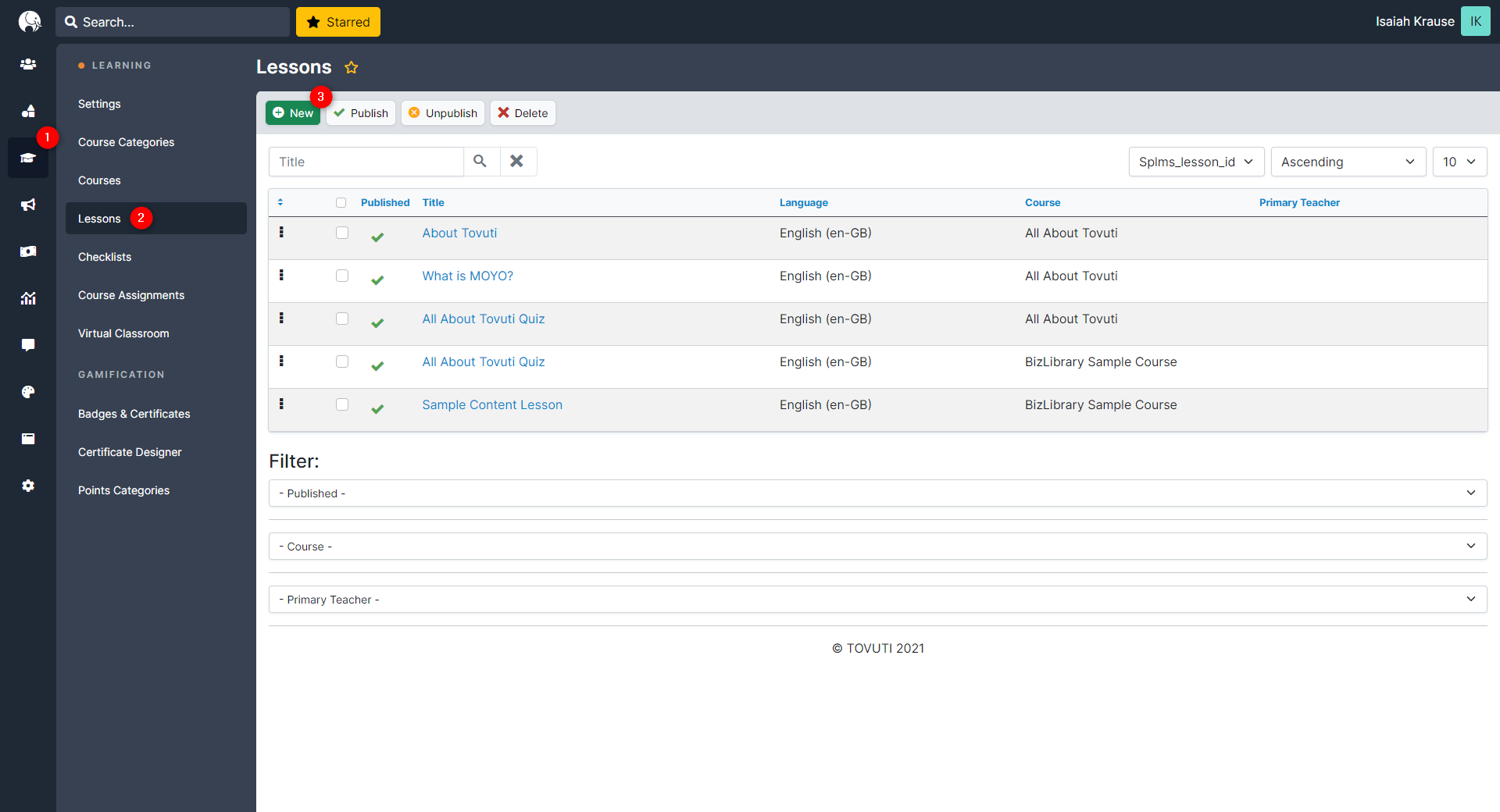 In the Overview tab, give this Lesson a name in the Title field. Optionally, select an instructor for this Lesson in the Primary Instructor field. If no Users have been set as Instructors yet, this field can be filled out later. Give the Lesson a brief Description.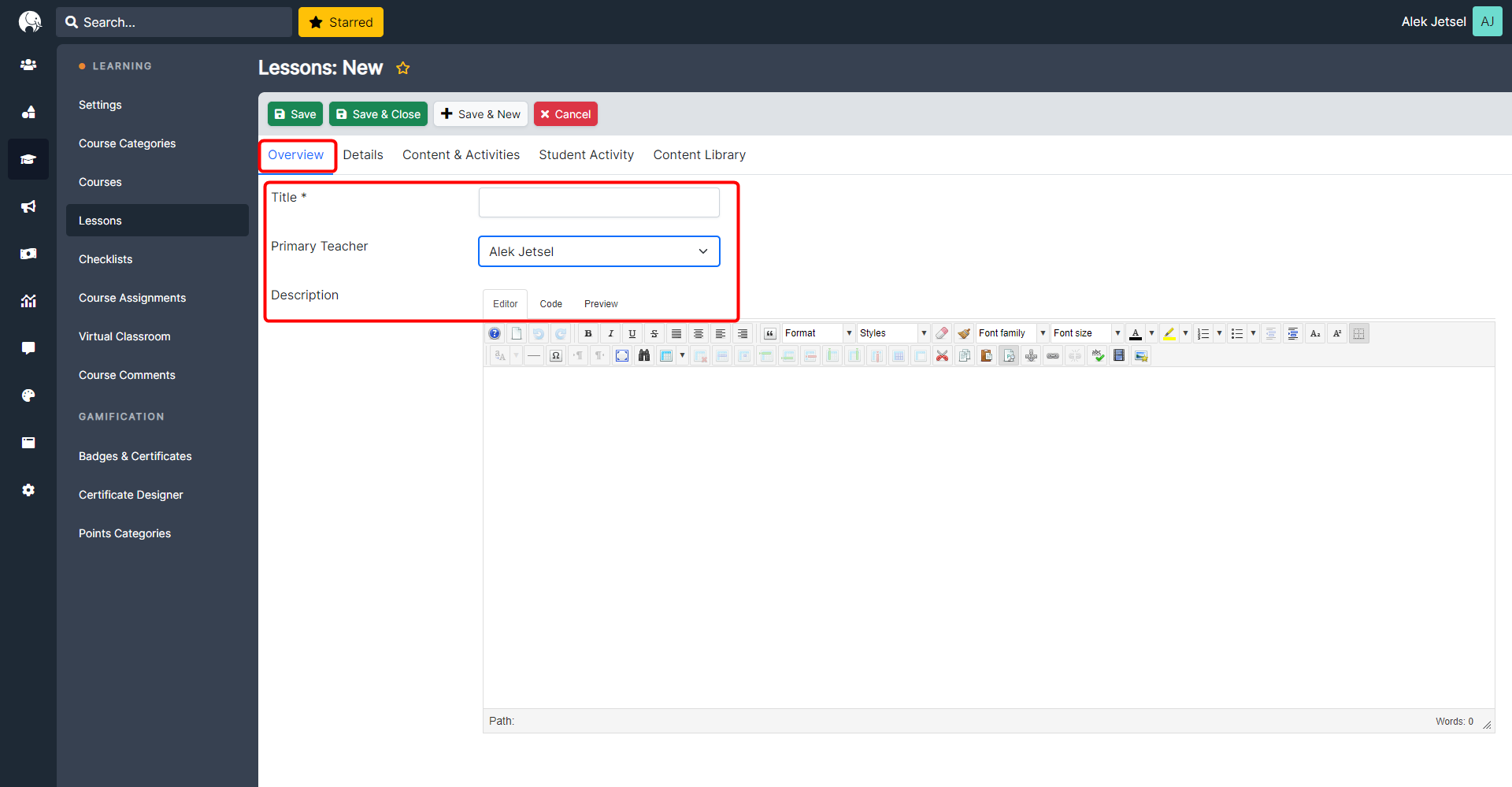 For instructions on creating an Instructor, visit the Help Center article here. 
In the Details tab, assign this Lesson to a Course and manage other settings like Language, Duration, and Access Type, which customize how Lessons are presented to the Learner.
Select "Yes" for Unlock After Passing Required Quiz if a Learner must pass a quiz (typically in a previous lesson) before accessing this Lesson. Select the corresponding Quiz. 
If this option is selected, it is recommended to include a mention of the prerequisite quiz in the Lesson Description.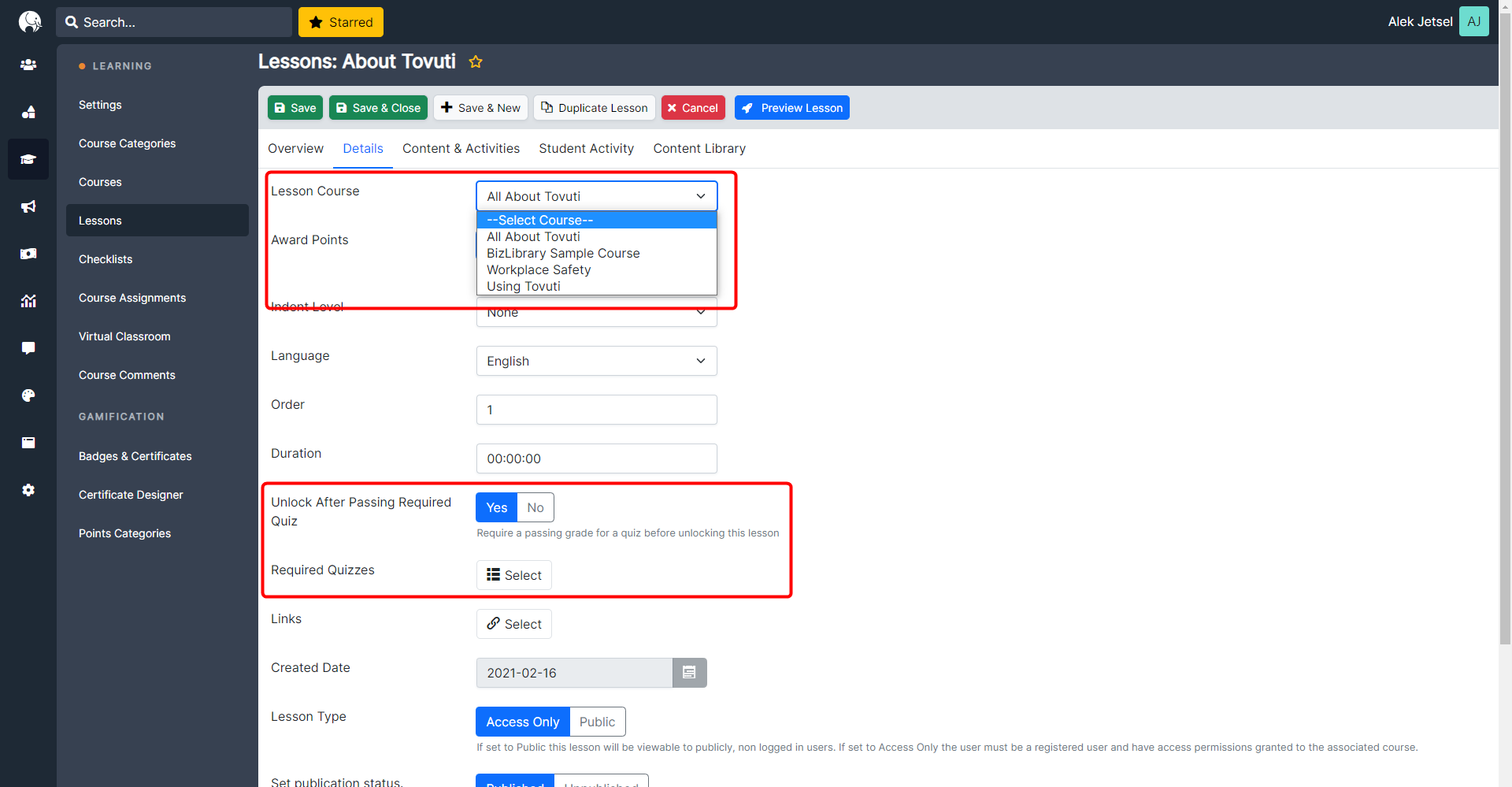 Add Lesson Activities
Manage the learning content of a Course from the Content & Activities tab. Add a new Lesson Activity by clicking the green "+" button. 
Depending on the Activity Type selected, different settings populate the activity editor.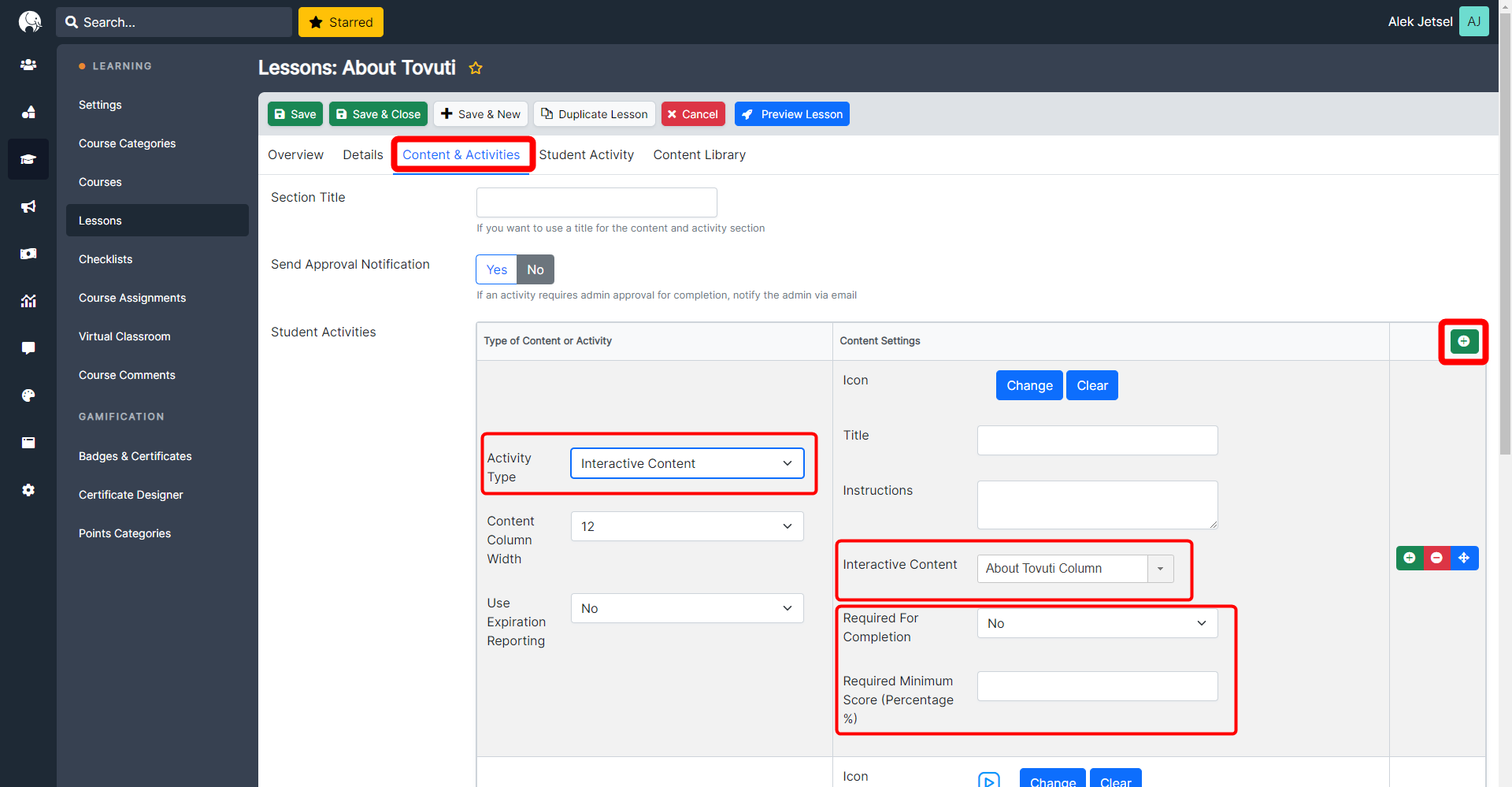 Provide necessary links, file uploads, or choose other Tovuti materials to substantiate the Activity. Additionally, select if this Activity is required to complete the Course or if admin approval is required to complete the Activity.
For more information on different Activity Types, see the Help Center article here.
In the Student Activity tab, view and export student activity reports for this Lesson.
In the Content Library tab, add other pieces of Content to the Lesson in the form of a BizLibrary resource or SCORM Package.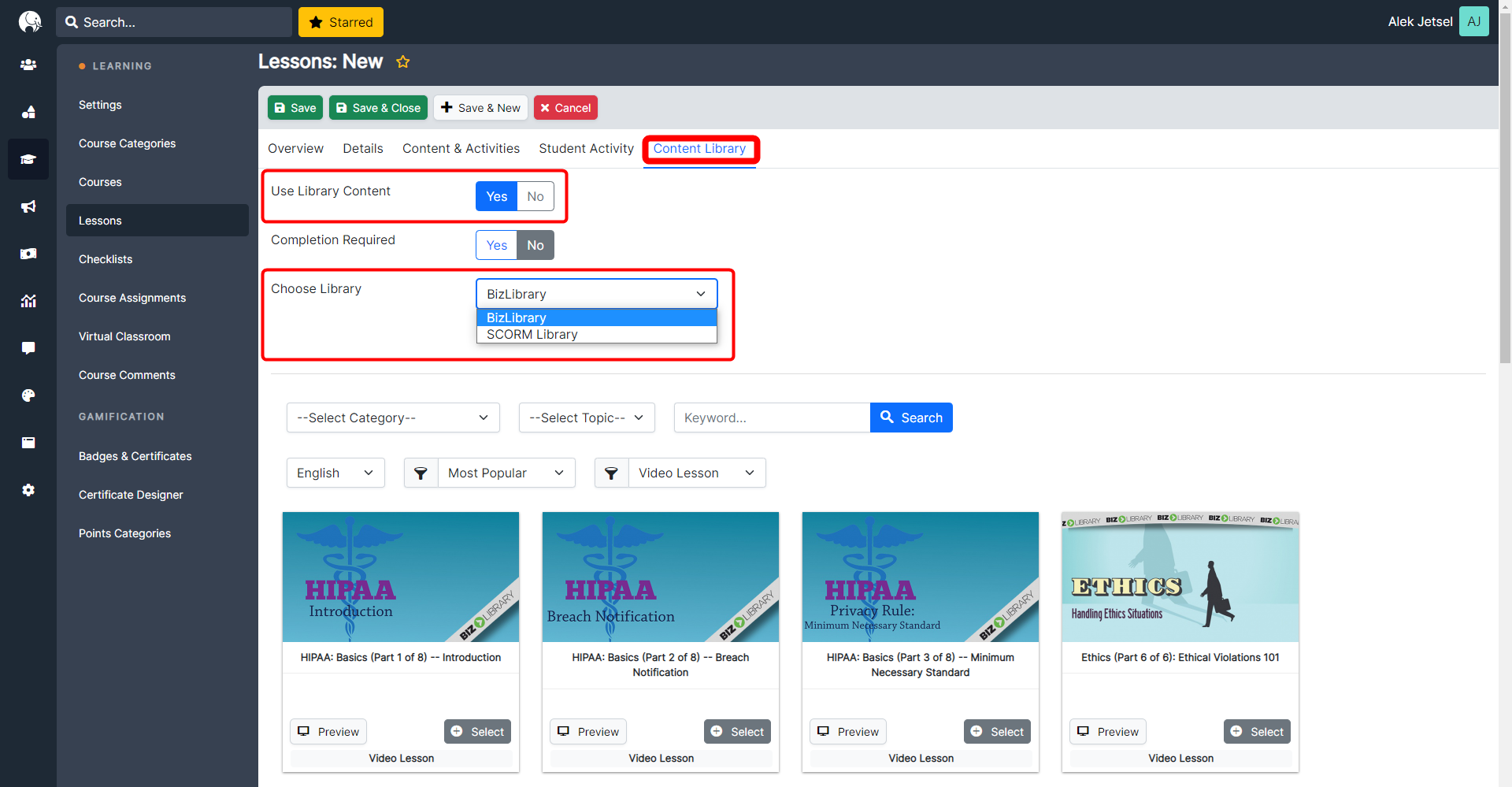 For information on uploading SCORM packages to the SCORM Library, view the Help Center article here. 
Click Save.
Duplicate a Lesson
Duplicating lessons makes it easy to create many Lessons with similar content or structure.
Check the box of the Lesson(s) to be copied > click Duplicate Lesson(s) > the new Lesson's title will be noted as a (copy)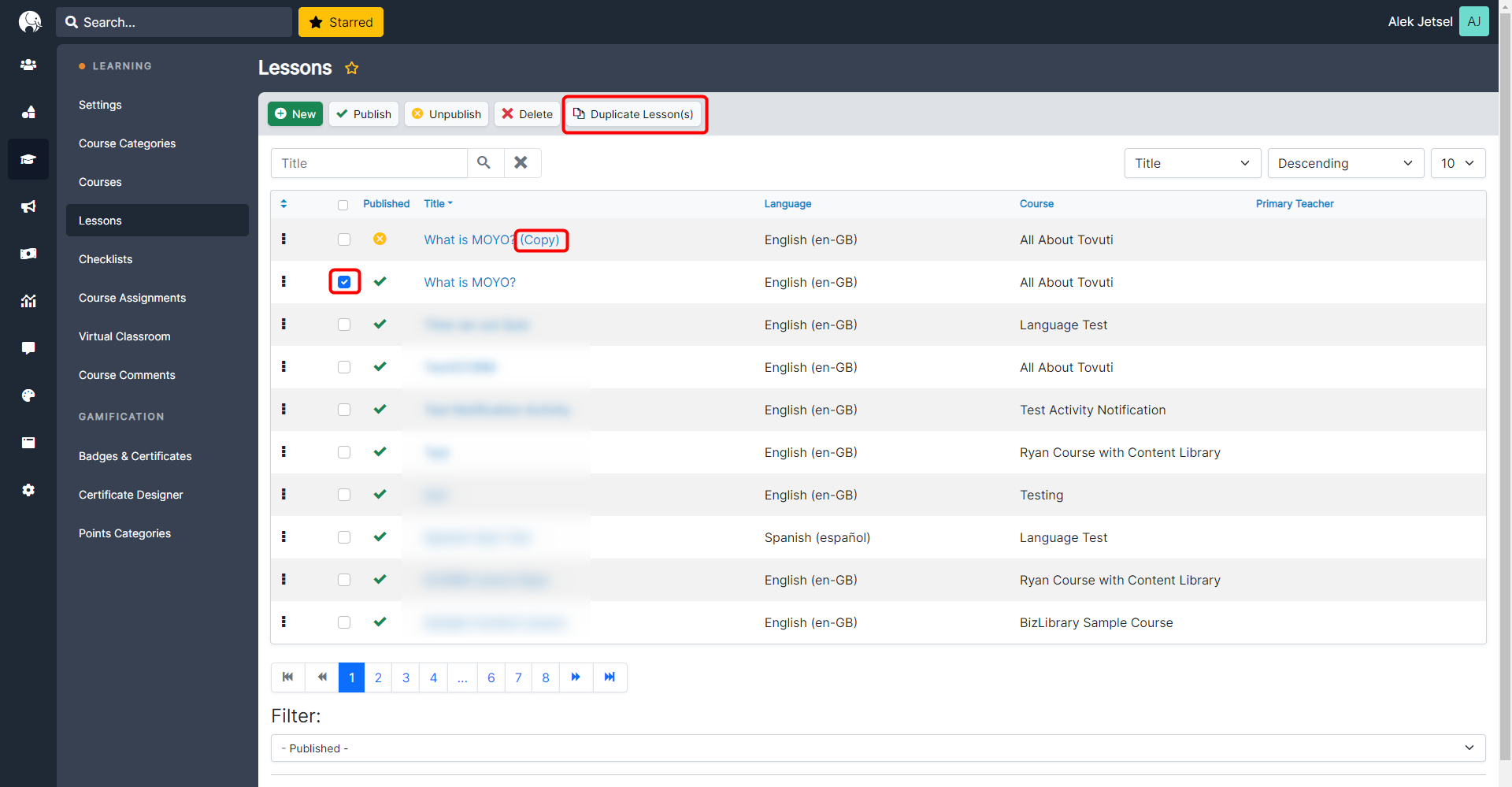 Multiple lessons are duplicated at once by using the multi-select boxes on the left side of the table.