Quizzes help measure student comprehension and retention. Create Tovuti Quizzes to provide engaging assessments and improve learning outcomes.
Go to Content Creation > Click Quizzes > Click New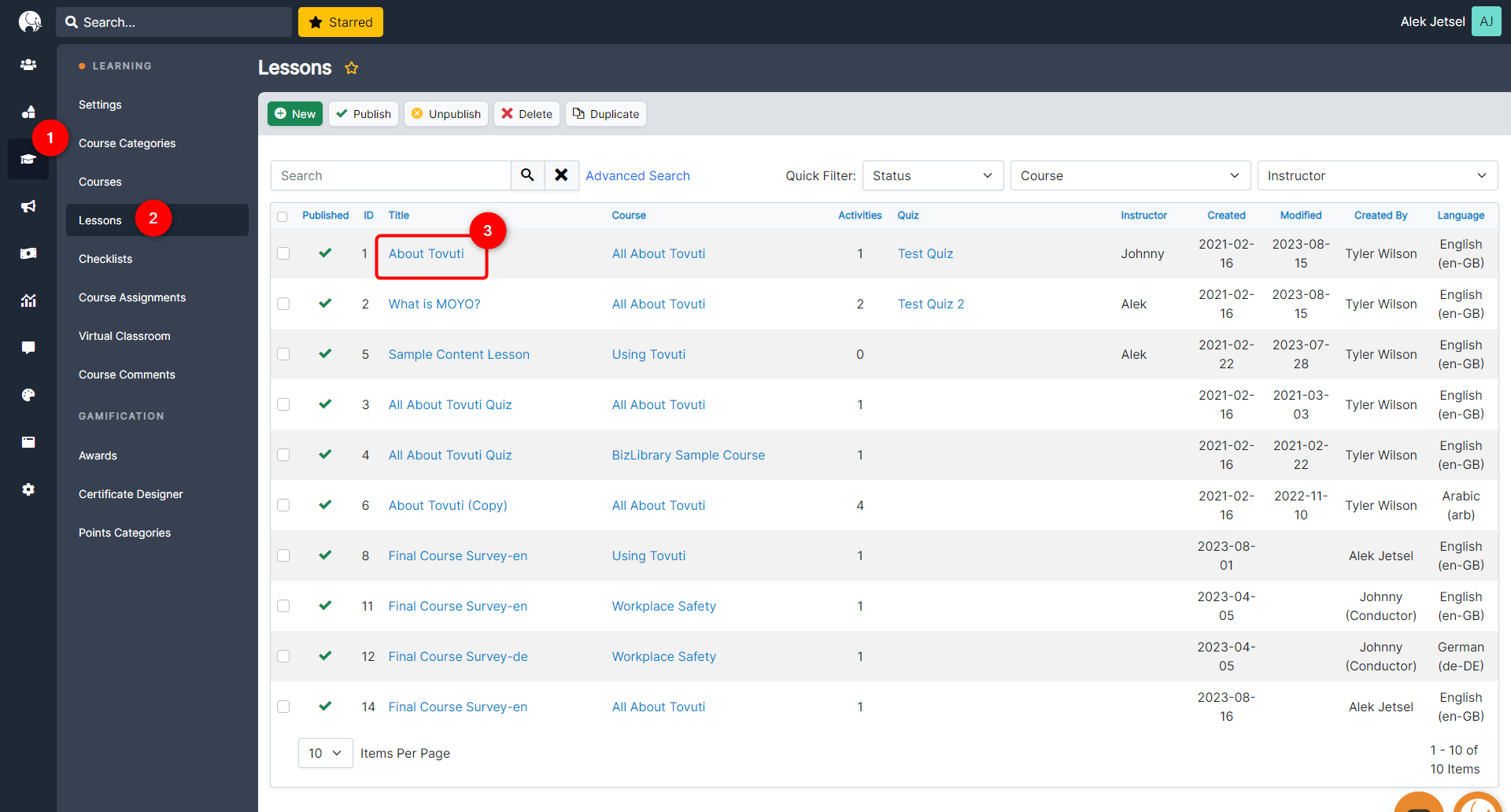 Quiz Settings
In the Settings tab, give this Quiz a Title and Description.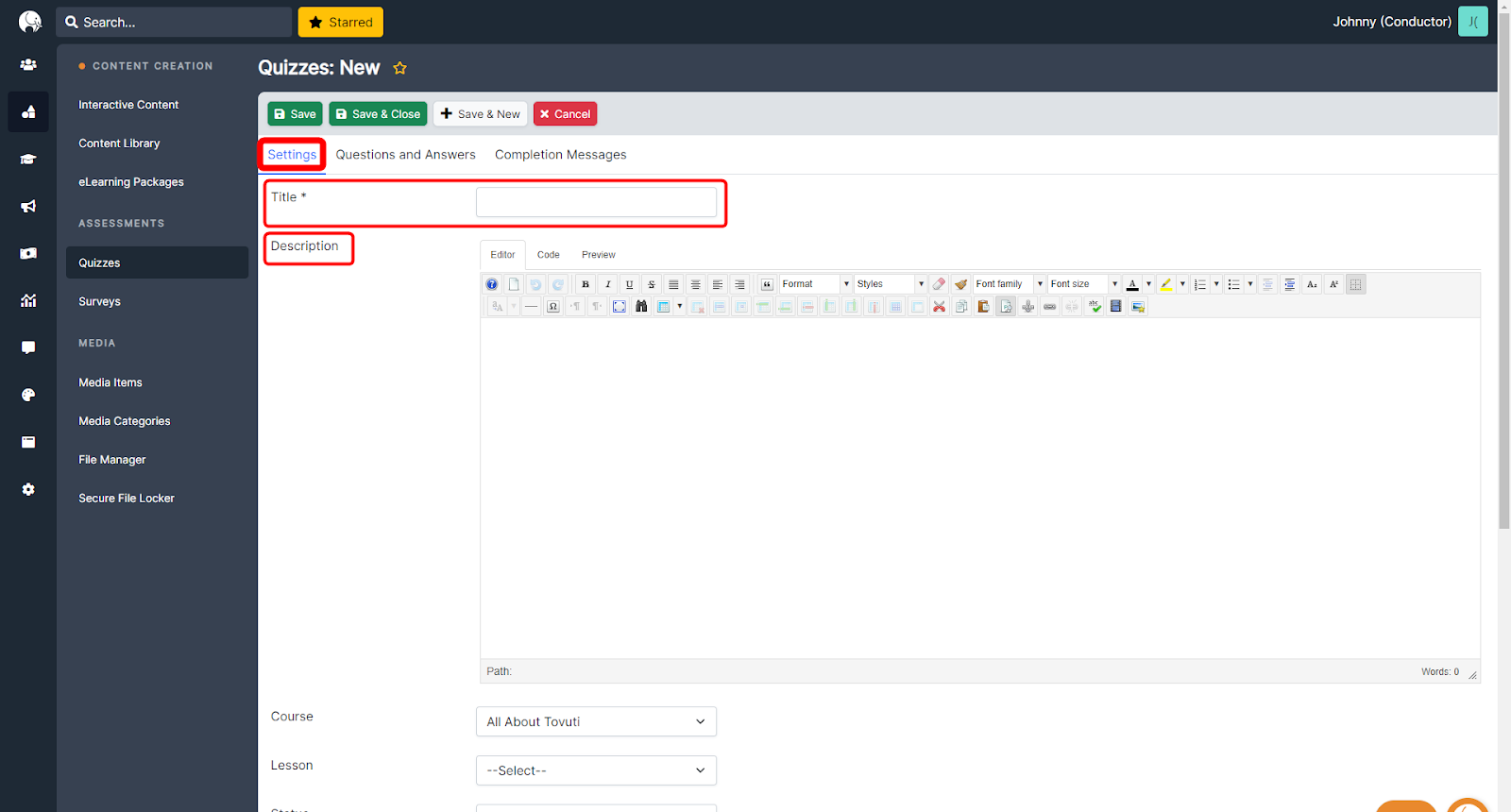 Both the Title and Description are shown in the Learner Portal. The description is a WYSIWYG editor, so it can include rich text formatting and images or videos.
Designate the Course and Lesson where this Quiz is found. If the Quiz should be password protected, enter a Proctor Password.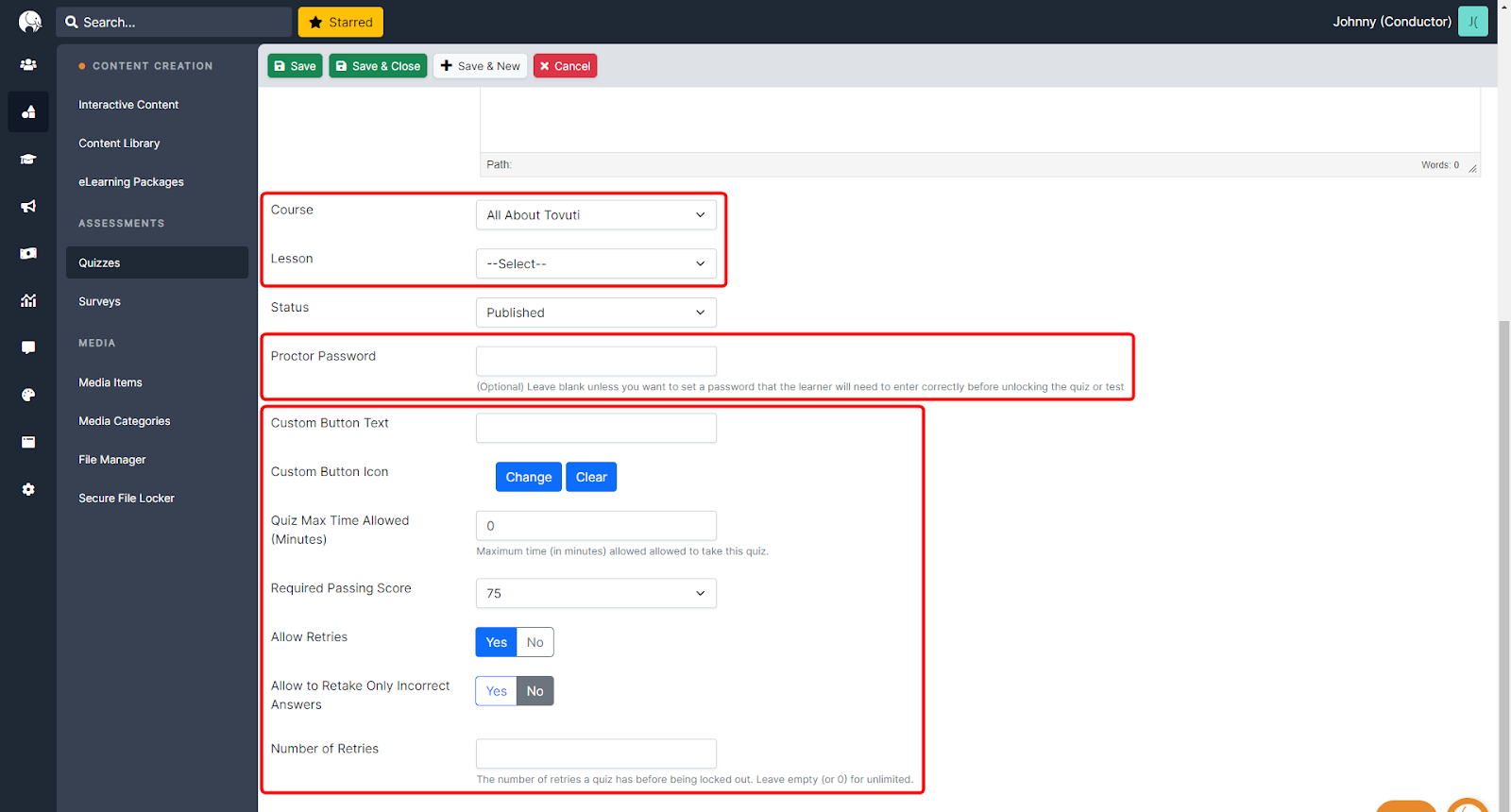 Learn more about the other settings in our advanced Quiz settings article.
Quiz Questions
In the Questions and Answers tab, create questions and answers. This can be done through a file Import (the template must be downloaded and followed) or manually.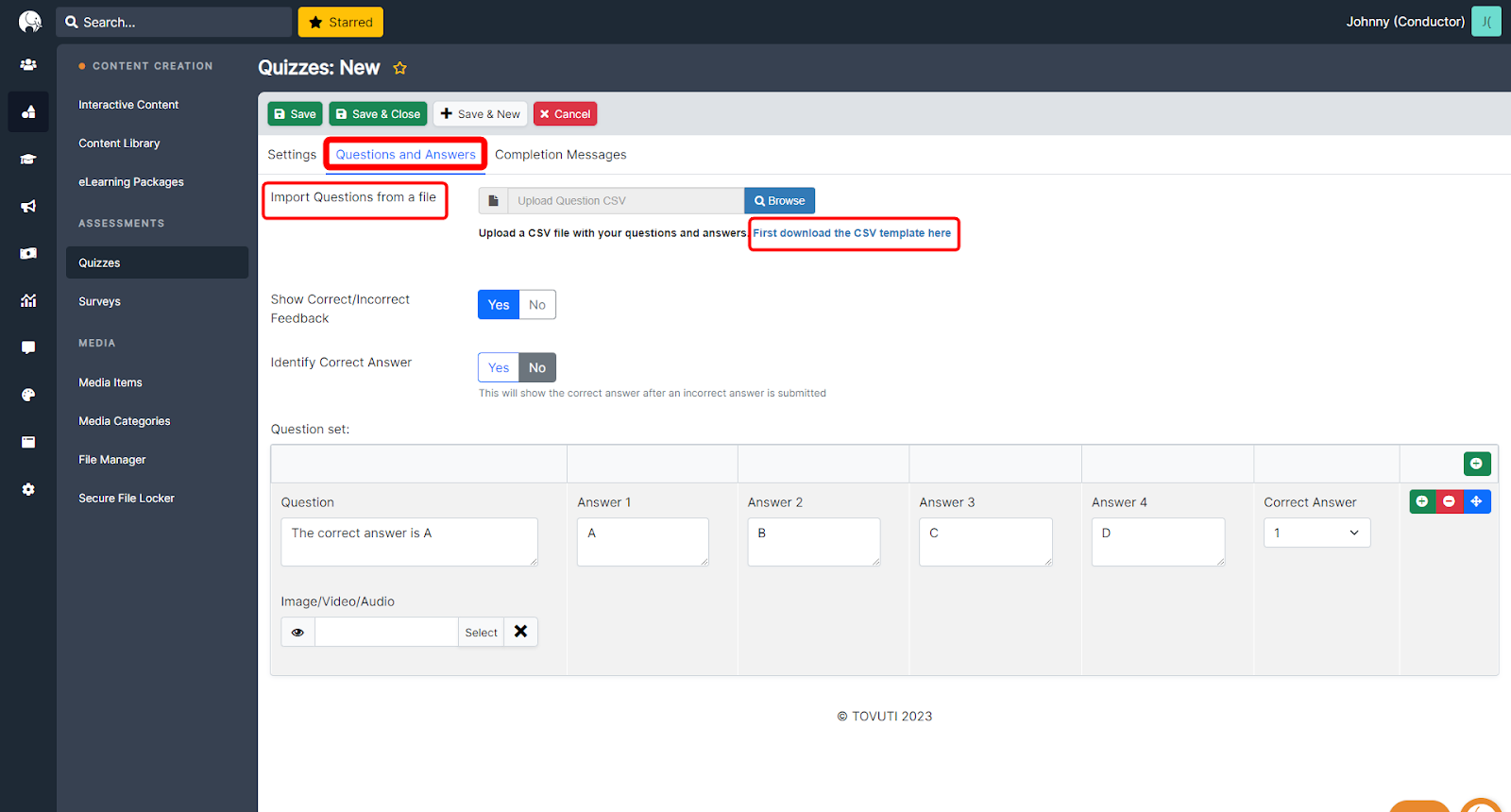 To create questions manually:
Click the green "+" button to add a question (1).
Type each Question (2).
Add an Image/Video/Audio (3) file.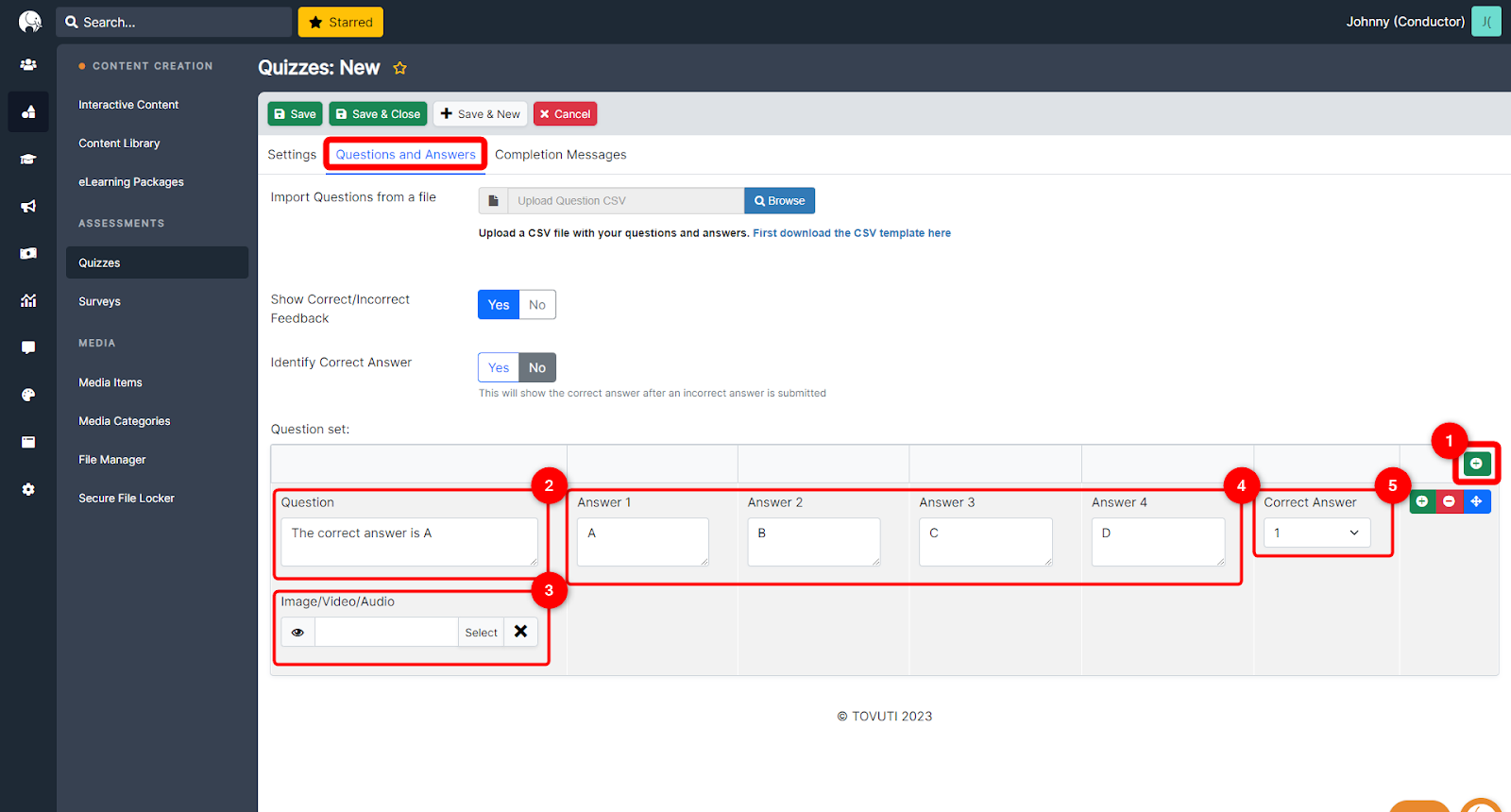 Type possible Answers (4) for each Question and Select the Correct Answer (5). A quiz question may have 1 through 4 answers. For example a True/False question has two answers, and an abcd multiple choice question has four answers.
Add as many questions as necessary for this quiz.
For more information on Quiz retakes, view the Help Center article here.
Learner Messages
In the Completion Messages tab, craft Default Completion, Passed, and Failed Messages that appear to the Learner.
Clicking the text box opens a WYSIWYG editor.
Like the Quiz Description, the completion messages may contain rich text, images, and videos.
Click Save.
Duplicate a Quiz
Duplicating quizzes can make quick work of creating a new quiz with only slight differences from a previous quiz.
Check the box of the quiz(zes) to be copied > click Duplicate Quiz(zes) > the new quiz will appear titled as (copy)