Lesson Activities fill an important role in the learning hierarchy of Tovuti. While Events and Courses provide the structure, Lesson Activities provide direct instruction and engagement, which make learning possible.
Lesson Activities provide instruction, present tasks, and engage students with learning content. For this reason, Lessons allow for a variety of Activity Types to best fit the learning material presented to the user. Lesson Activities also allow admins to utilize previously-created content, such as PowerPoint presentations or videos.
To learn about Lessons, view the Help Center article here.
Go to Learning > click Lessons > click a Lesson that needs new Activities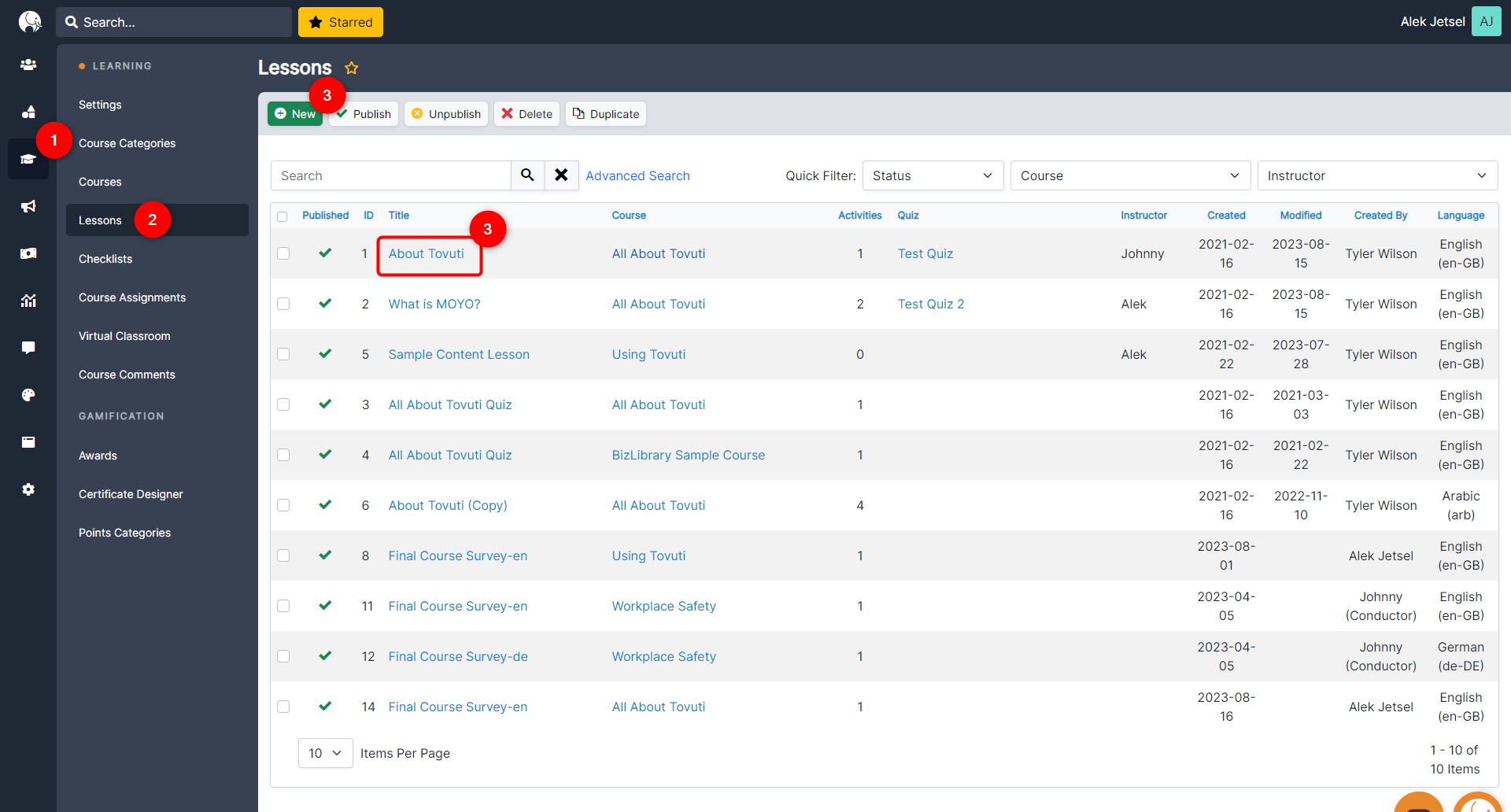 (1) Click the Content & Activities tab.
(2) Click the green "+" button to add an Activity.
Select an Activity Type by (3) clicking the drop-down selector in Activity Type.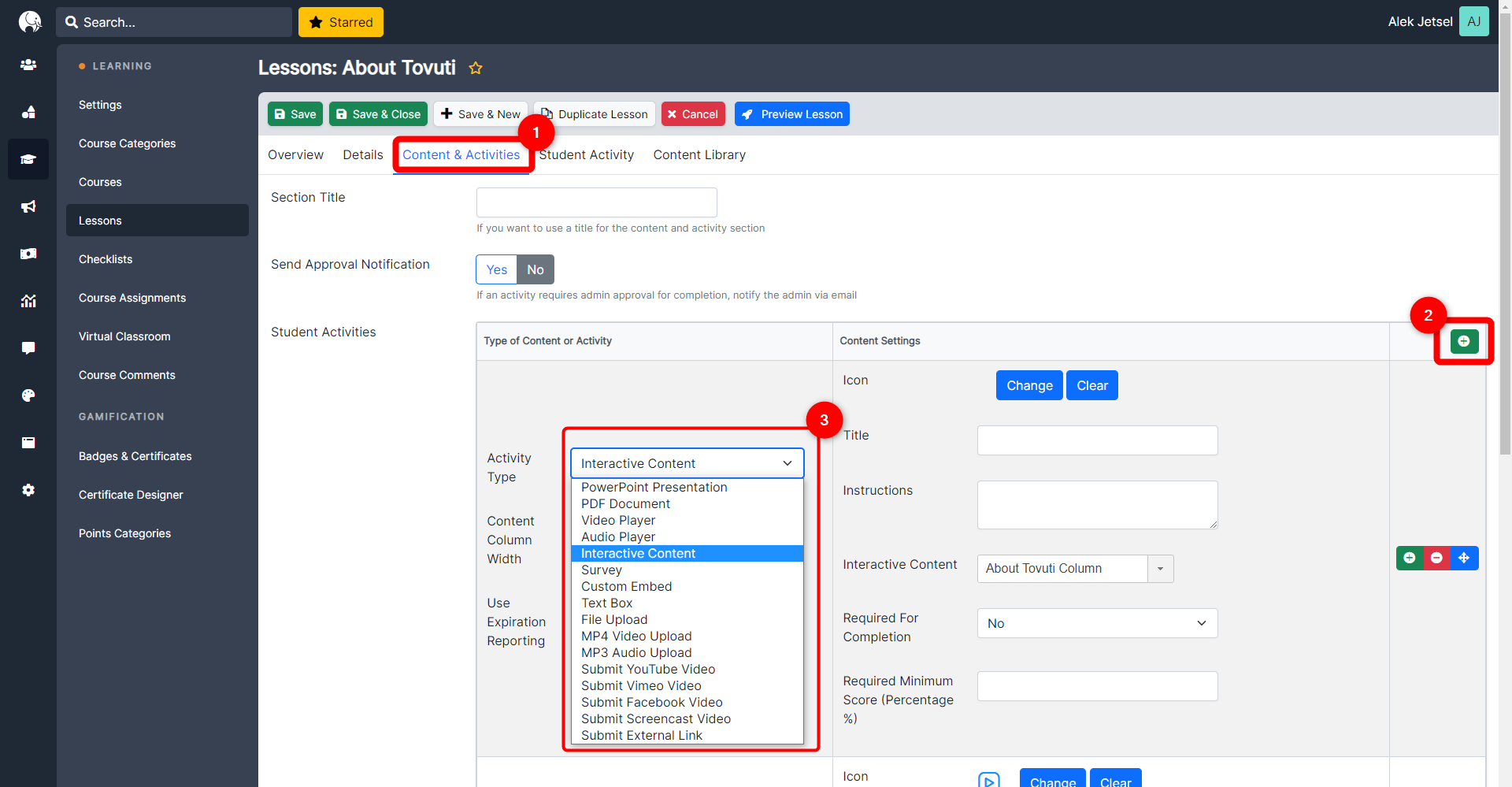 Lesson Activity options include:
PowerPoint Presentation*

- admins include a PowerPoint presentation within this Lesson

PDF Document*

- the admin includes a PDF document within this Lesson

Video Player*

- admins include a Video player within this Lesson; the admin uploads a video or enters a video link

Audio Player*

- the admin includes an audio player within this Lesson; the admin uploads an audio

Interactive Content

- the admin includes a previously created Interactive Content within this Lesson (view the Help Center

article

for more information)

Survey

- the admin includes a previously created Survey within this Lesson (view the Help Center

article

for more information)

Custom Embed

- the admin includes an embed code from another source within this Lesson

Event - users are asked to

register or check in

for an Event (can be made required for Lesson completion
Text Box

- users are asked to provide a response according to the instructions set by the admin (can be made required for Lesson completion)

File Upload

- users are asked to upload a file according to the instructions set by the admin (can be made required for Lesson completion)

MP4 Video Upload*

- users are asked to upload an MP4 file according to the instructions set by the admin (can be made required for Lesson completion)

MP3 Audio Upload*

- users are asked to upload an MP3 file according to the instructions set by the admin (can be made required for Lesson completion)

Submit YouTube Video

- users are asked to submit a YouTube video link according to the instructions set by the admin (can be made required for Lesson completion)

Submit Vimeo Video

- users are asked to submit a Vimeo video link according to the instructions set by the admin (can be made required)

Submit Facebook Video

- users are asked to submit a Facebook video link according to the instructions set by the admin (can be made required)

Submit Screencast Video

- users are asked to submit a Screencast video link according to the instructions set by the admin (can be made required)

Submit External Link

- users are asked to submit another type of external link according to the instructions set by the admin (can be made required)

Instructional Text - admins include rich text to provide instructional material embedded in the lesson, rather than only at the beginning in the Lesson Description