Interactive Content and Tovuti Quizzes are edited in different places in the admin area of the LMS and are configured to support different use cases of a successful learning program. This article details the main differences in these features and what the expectations for each should be when creating Interactive Content or Tovuti Quizzes.
Interactive Content - Teaching, Not Testing
Interactive Content is generally used for engaging content to teach a concept, rather than testing or grading a learner. Interactive Content is intended for learning ideas and concepts through engaging contextual content.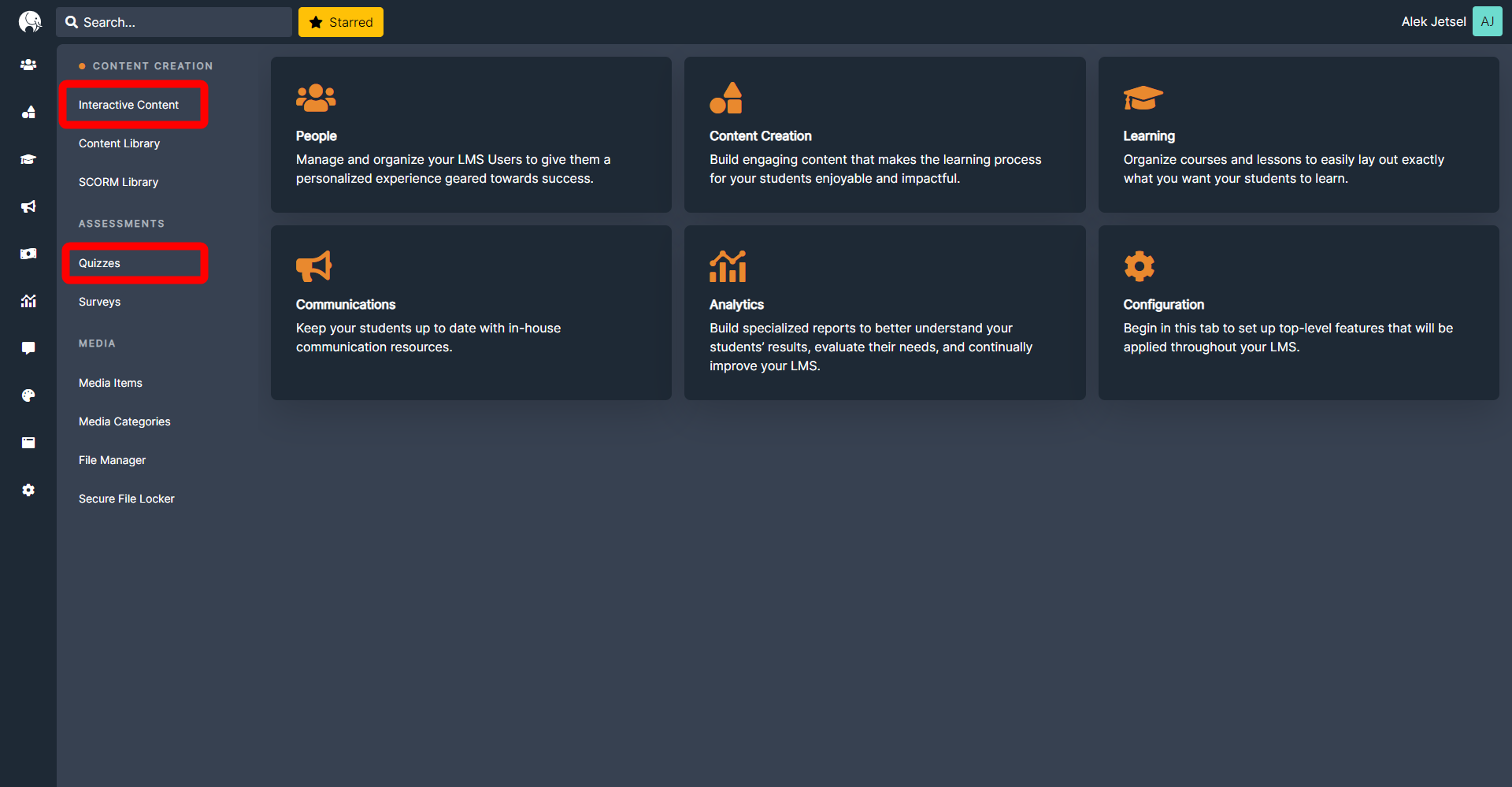 Interactive Content engages a Learner in the educational process, thereby empowering them with contextual knowledge. When configured by a Tovuti Admin, Interactive Content increases a Learner's comprehension and retention, and the overall success of your learning program.
For general information on creating Interactive Content, view the Help Center article here.
Additionally, read the articles for each type of Interactive Content here.
Interactive Content - Reporting
Because Interactive Content isn't used as an assessment tool, there are different reporting options available compared to Quiz reporting.
Activity Reports
These reports show completion information for activities that Learners have completed within a Lesson. Reports are configured in the Analytics section of the admin portal.
When selecting the Courses to report on in this Activity Report, select the course that includes the Interactive Content.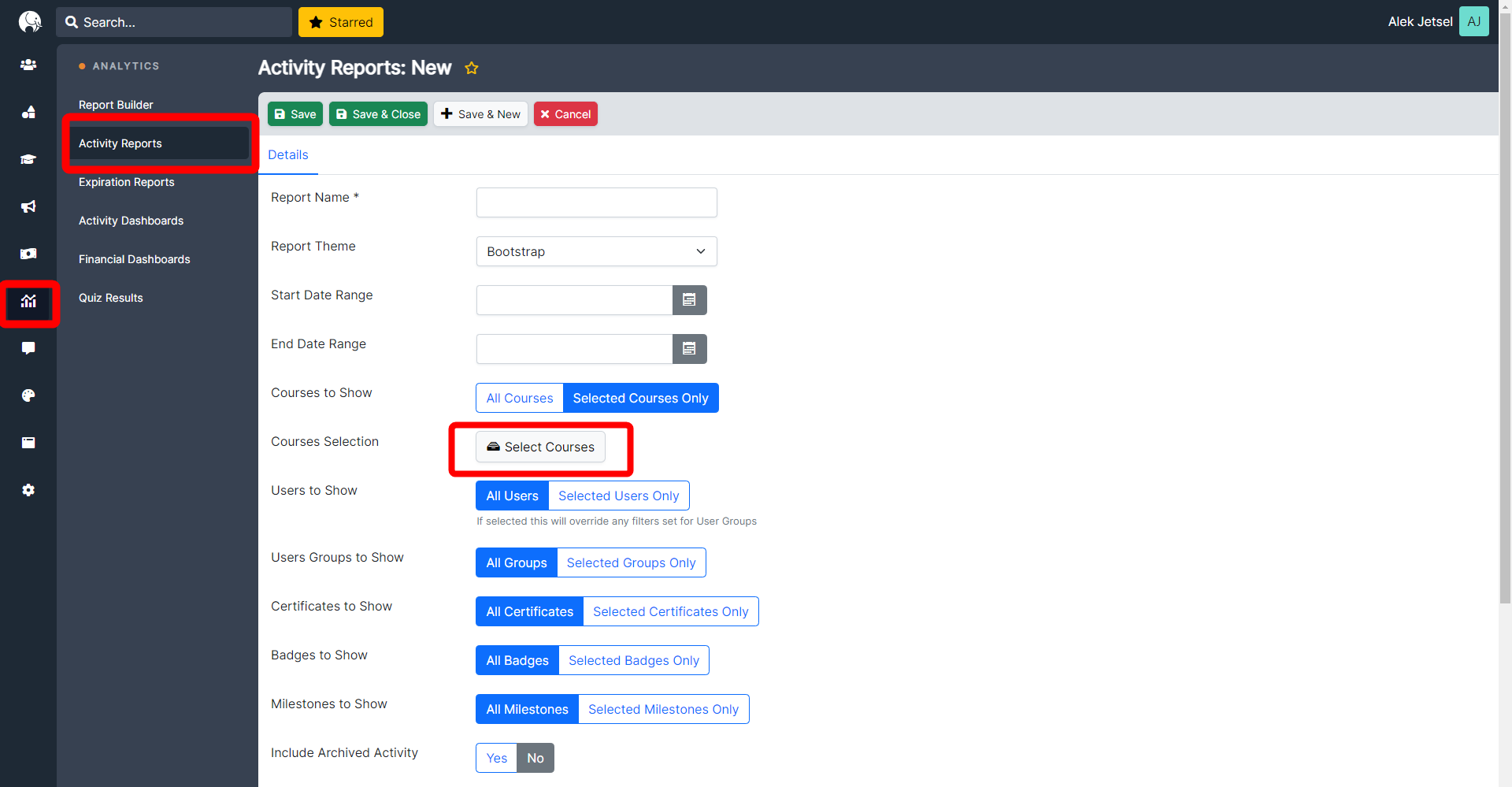 The Activity Report shows the Completion Status of Interactive Content. The Learner's answer or response is not reportable. This restriction aligns with the concept of Interactive Content as a teaching tool and not an assessment tool.
Student Activity Tab
The Student Activity tab is found in the edit view of a Lesson. This tab provides an overview of a Learner's engagement with the content. This is also where the admin reviews any files that Learners have uploaded through Interactive Content, e.g. the "Discussion Tool" Interactive Content-type.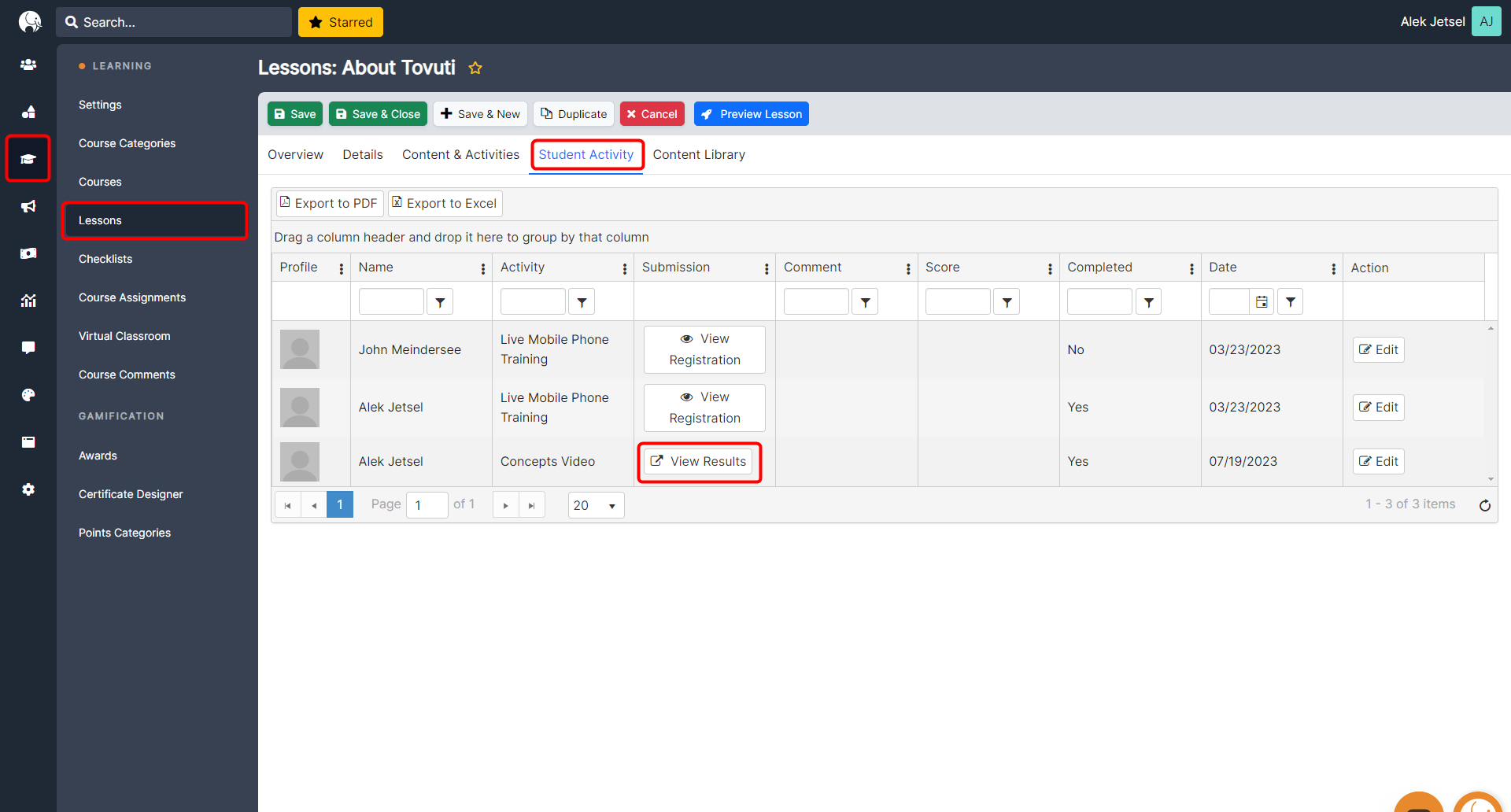 Results for each Learner are viewed here. Use Reports to aggregate data of multiple Learners.
Learner Transcripts
A Learner's Tovuti Transcript is accessed by searching for the Learner in the User Manager and then selecting View Transcript. A Transcript contains all of the Courses, Lessons, and Activities a Learner has completed in the system. A Learner's Transcript is also accessed by a Team Lead via the Team Lead Dashboard, when applicable.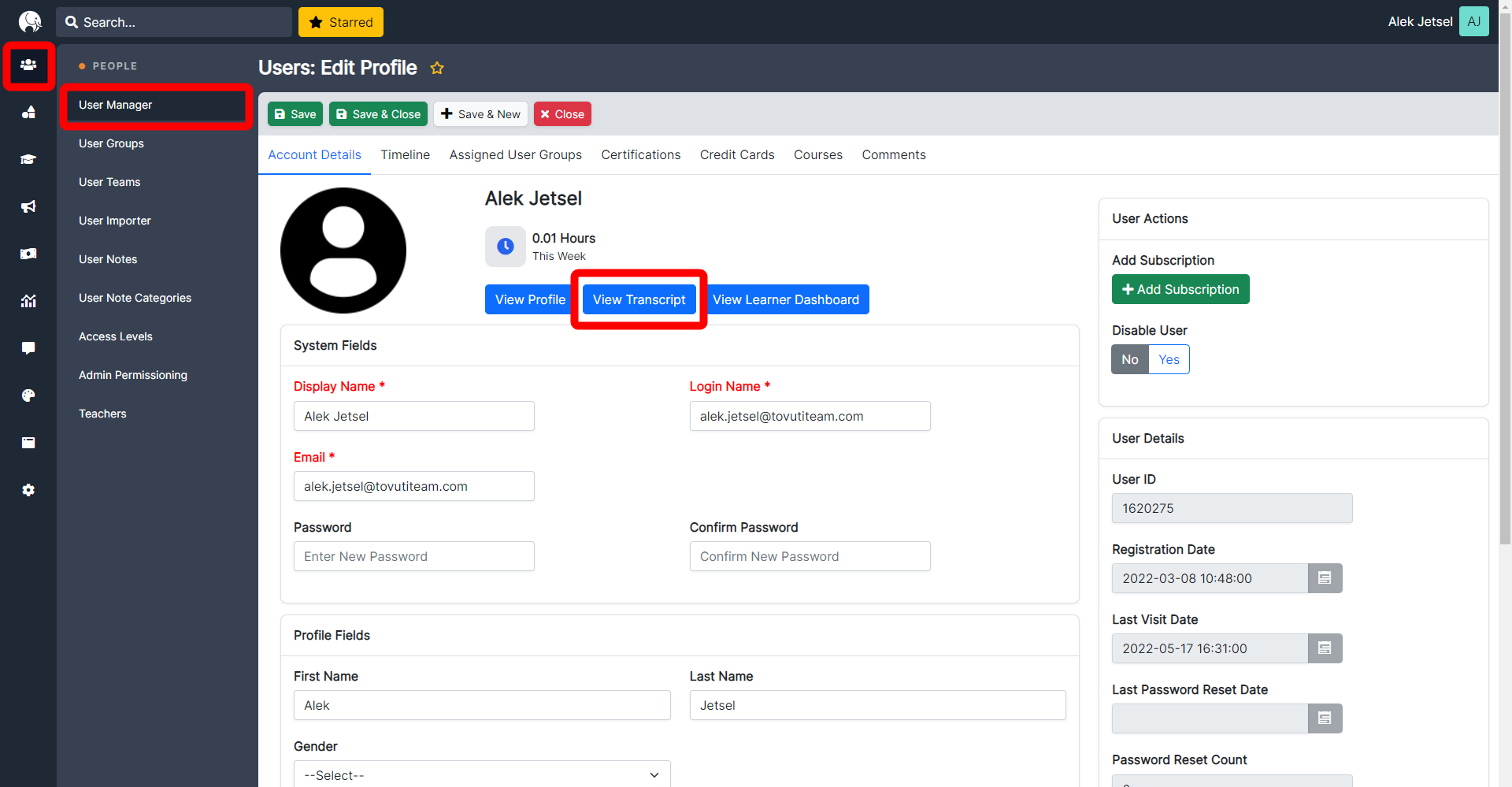 As with Activity Reports, Interactive Content completion is shown here, not the results. Results of Interactive Content are viewed in the Student Activity Tab.
Tovuti Quizzes
Quizzes built in the Content Creation tab are the primary resource for grading options within Tovuti. Quizzes are assigned points and include Multiple Choice Questions. Tovuti Quizzes are used as an assessment tool and have two report types available.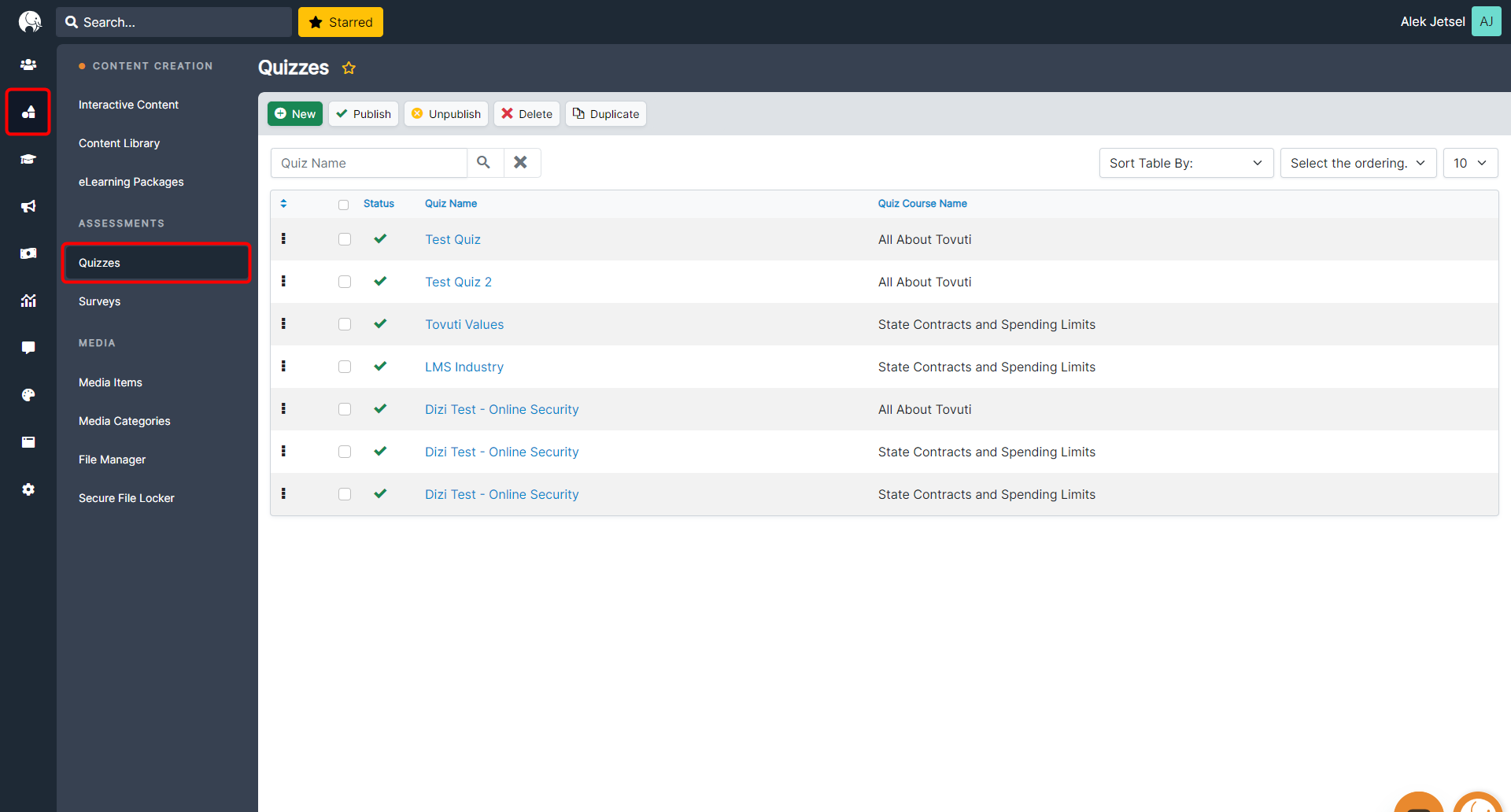 Quizzes measure student comprehension through assessment. Utilize quizzes to ensure that high-level concepts are memorized or applied by users.
For more information on creating Quizzes, see the Help Center article here.
Quiz Reports
Reporting on Quiz Results is accomplished in the Report Builder of the Analytics tab.
For the Report Type field, select Education.
For the Education Report Type field, select Quiz Results.
Select the Quiz to report on.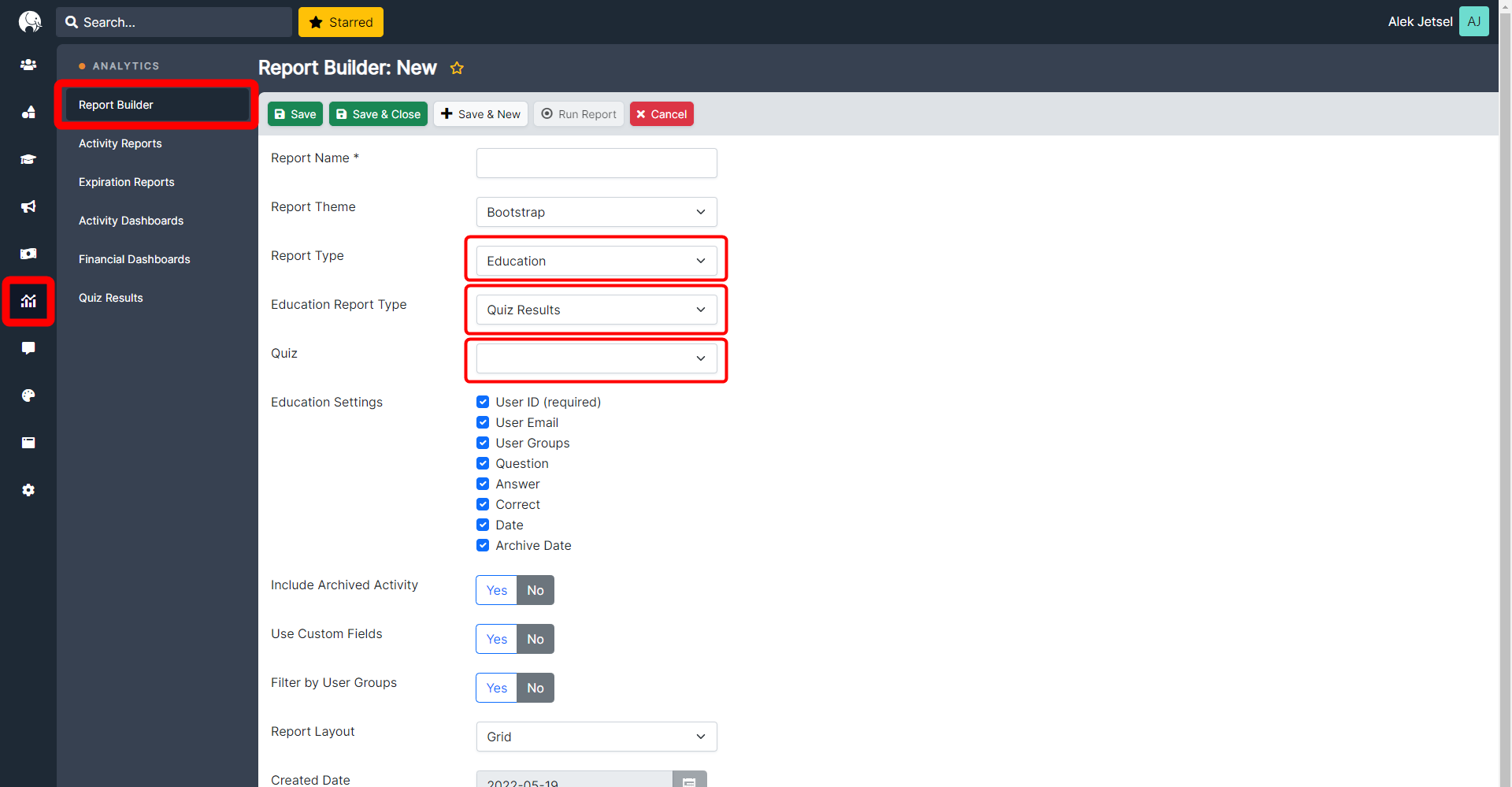 Additionally, Quiz Question Averages can be selected in the Education Report Type field to report on the percentage of users who answer questions correctly.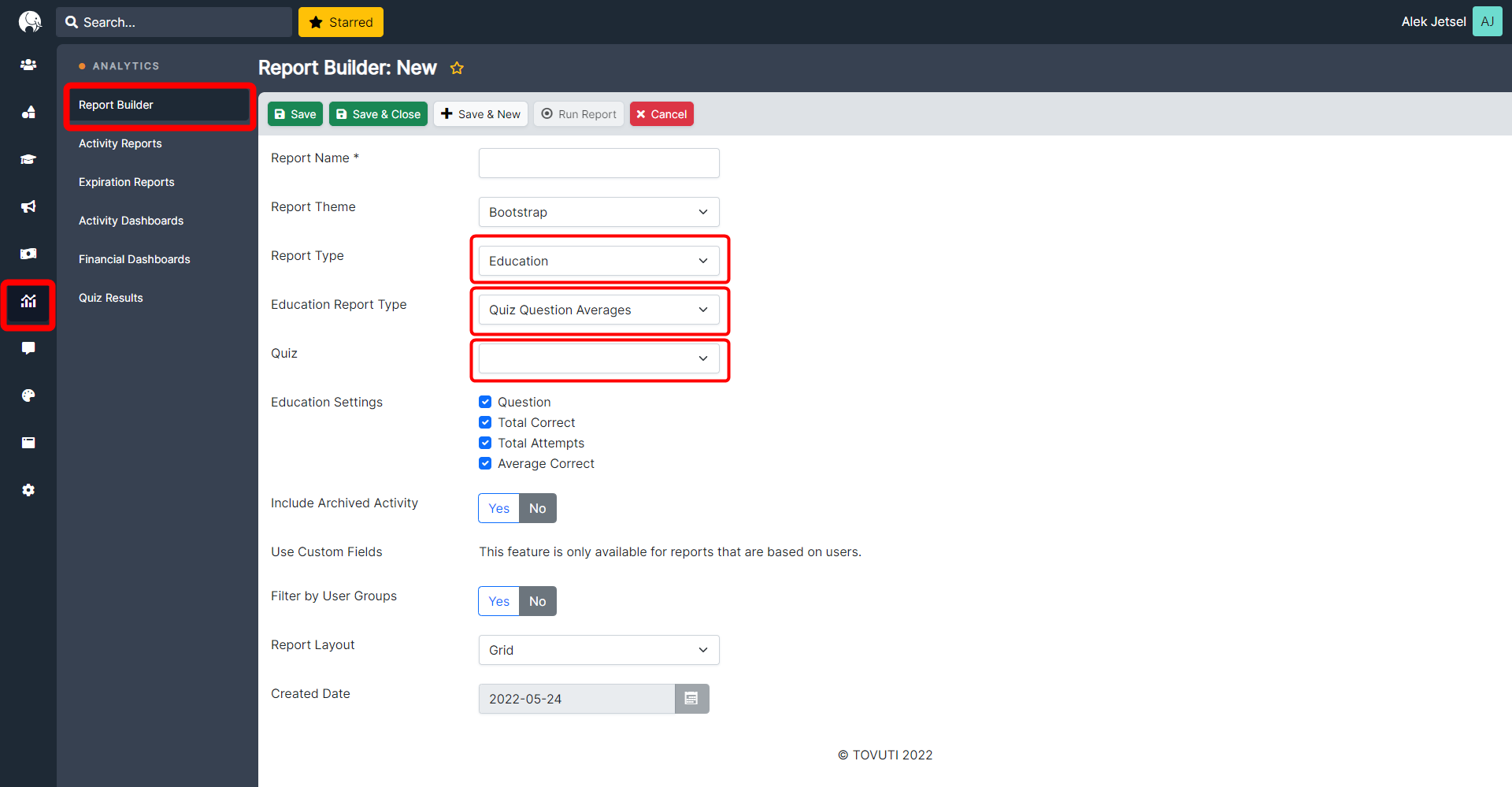 Admins also pull ad-hoc reports from the Quiz Results button in the side-nav menu.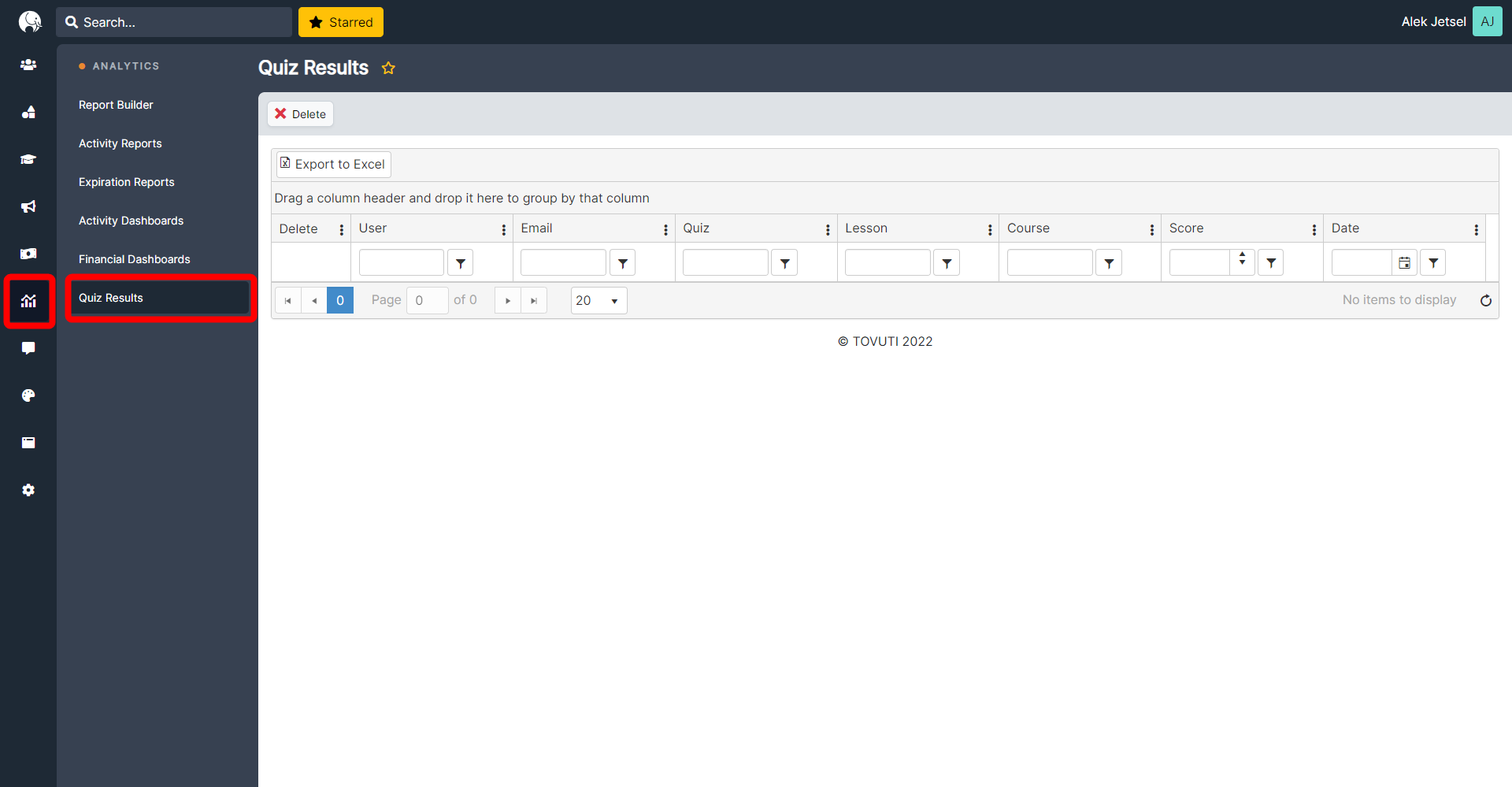 For more information on the Quiz Results section, view the Help Center article here.