Accurate and reliable reporting is critical to a successful LMS. Tovuti offers a robust library of customizable reports found in the Report Builder section of the Admin Portal.

Go to Analytics > click Report Builder > click New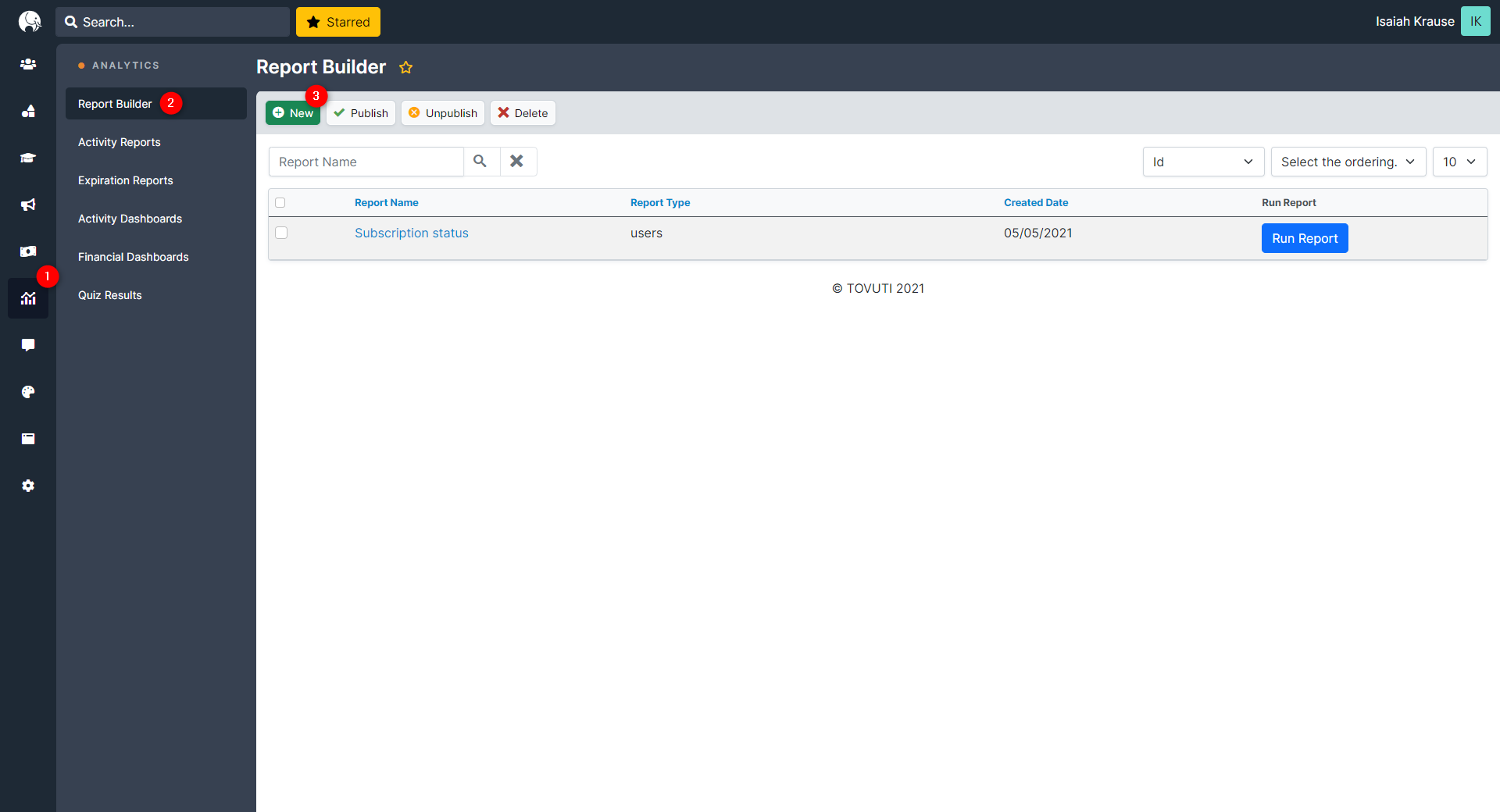 Give this report a Name, choose the Report Type, and select the Data Points to include in the report.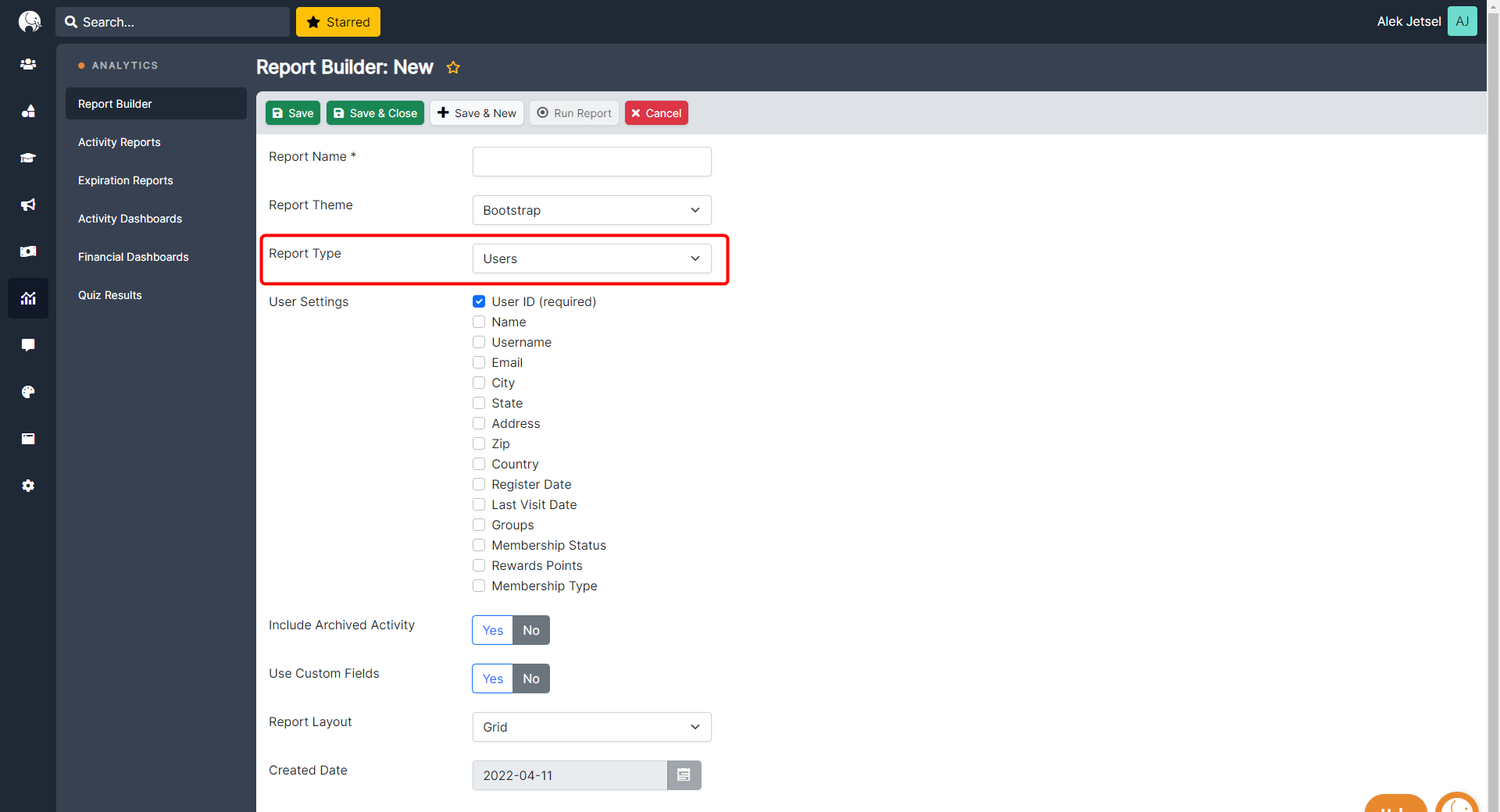 Each Type of report includes a different list of Data Points.
Users

- user data, including custom profile fields

Transactions - History of transactions; including date, user,

course events

, and

promo codes

Events

- event data, including transactions

Event Registrants

- users registered for an Event

Education

reports:

Learner Progress

- user progress with course and certificate data

Assigned Courses

(must choose assignment) - completion data of a course assignment

Survey Results

(must choose survey) - response data of a survey

Survey Summary

(must choose survey) - additional data of a survey

Quiz Results

(must choose quiz) - result data of a quiz

Quiz Questions Average

(must choose quiz) - average result data of a quiz

Badges/Certificates/Milestones

(must choose award type and award) - award recipient data of an award

Team Learner Summary

(must choose Team and other items) - detailed data of a team

Point Totals

- total earned points data

Checklist Summary - user progress/completion of a checklist

Subscriptions

- subscription data including enrolled users

Notifications

- data for which types of notifications are sent, when they are sent, and to whom

Media Items - usage data for the different media items in the LMS
Select if archived activity or custom profile fields are included.
Select a report Layout and Theme.
Click Save.
Once saved, click Run Report from the list view to open the report.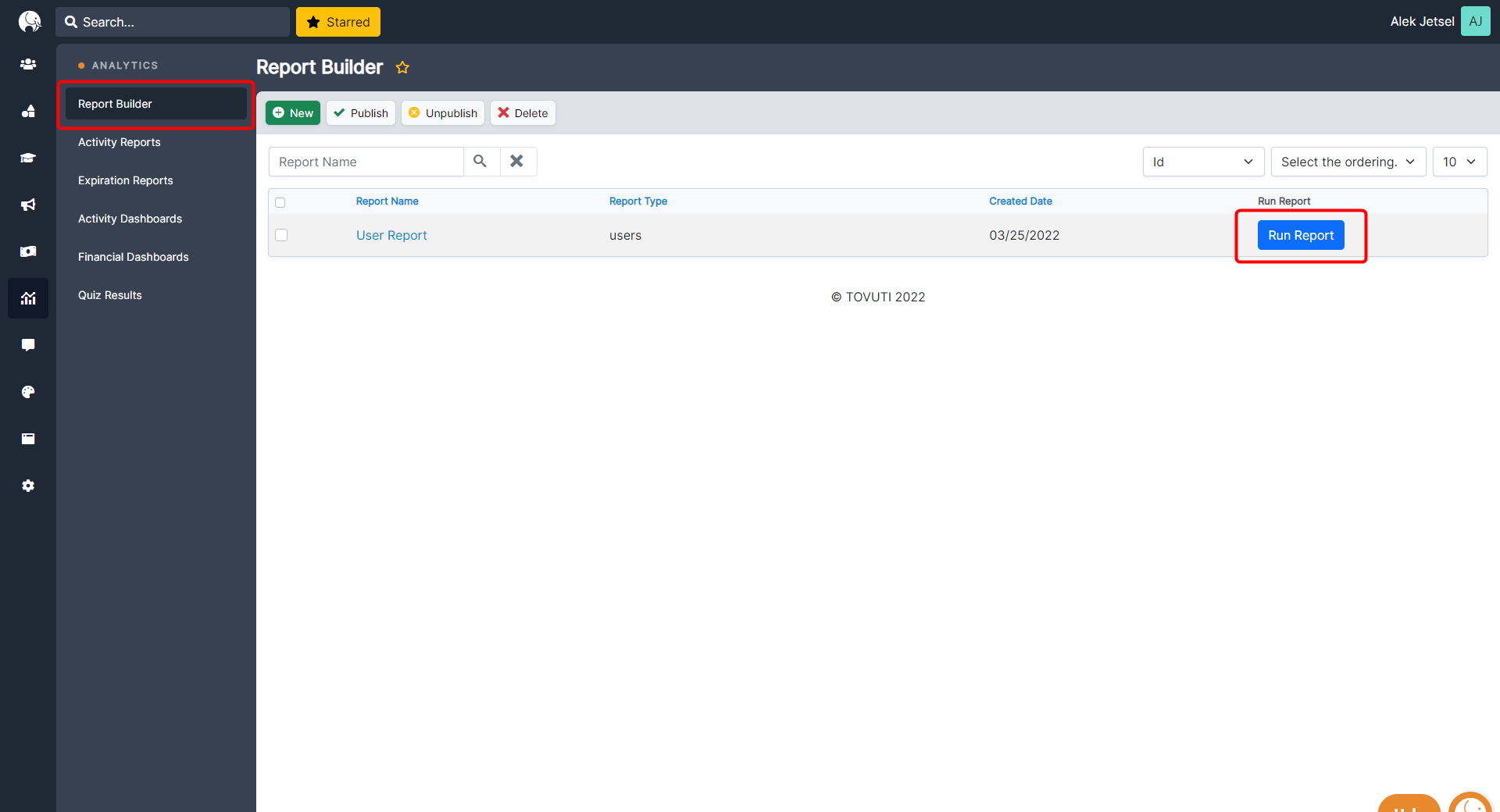 There are several options to edit and modify reports and how they display the accompanying data.
Click Edit Columns > select the column to edit > apply new settings such as a new column name, data type, filter, or format. Click Update to apply the changes.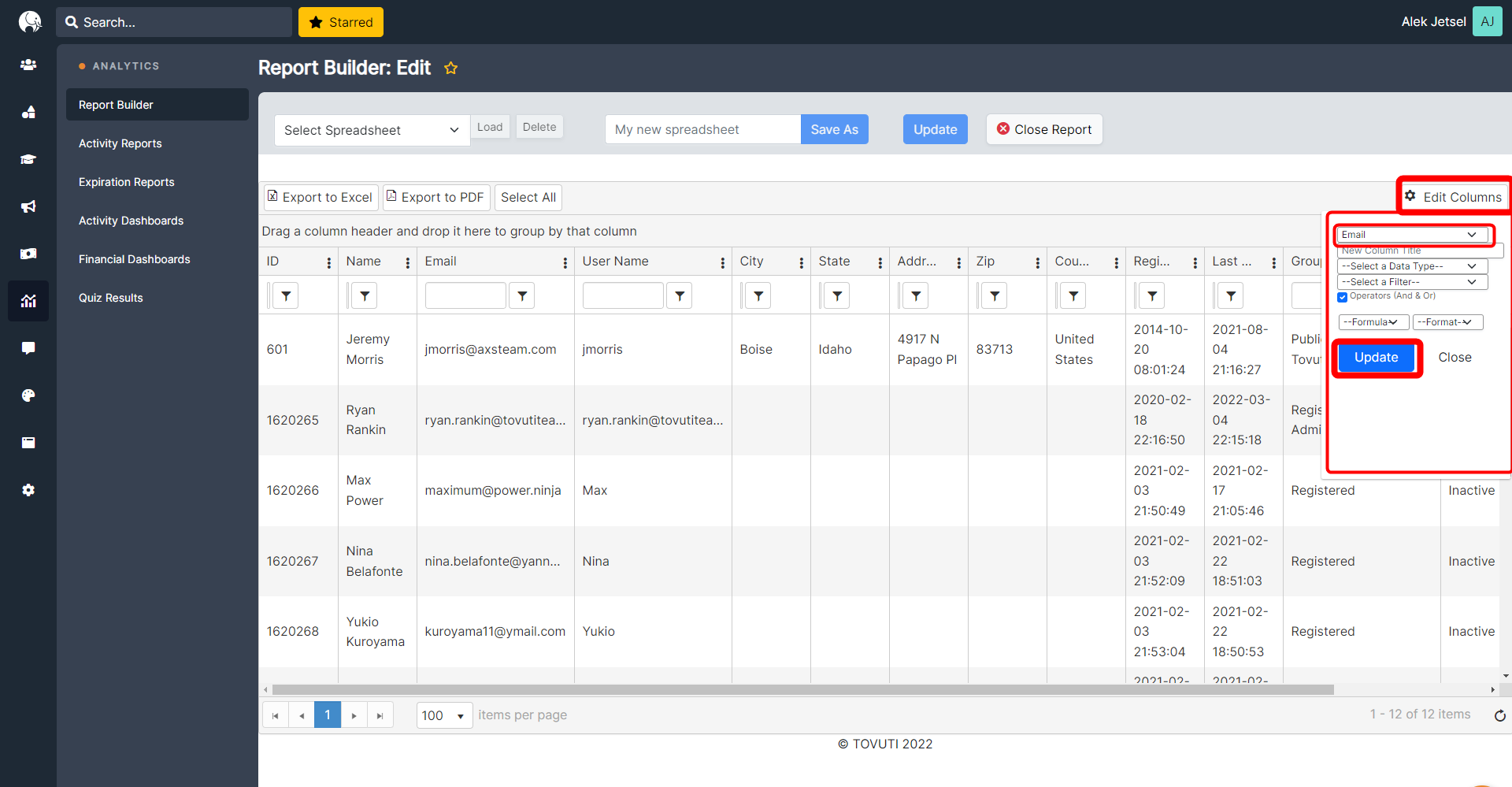 Existing columns are movable within the report. Click and drag the "3 dots" icon next to any column to move it to the desired position.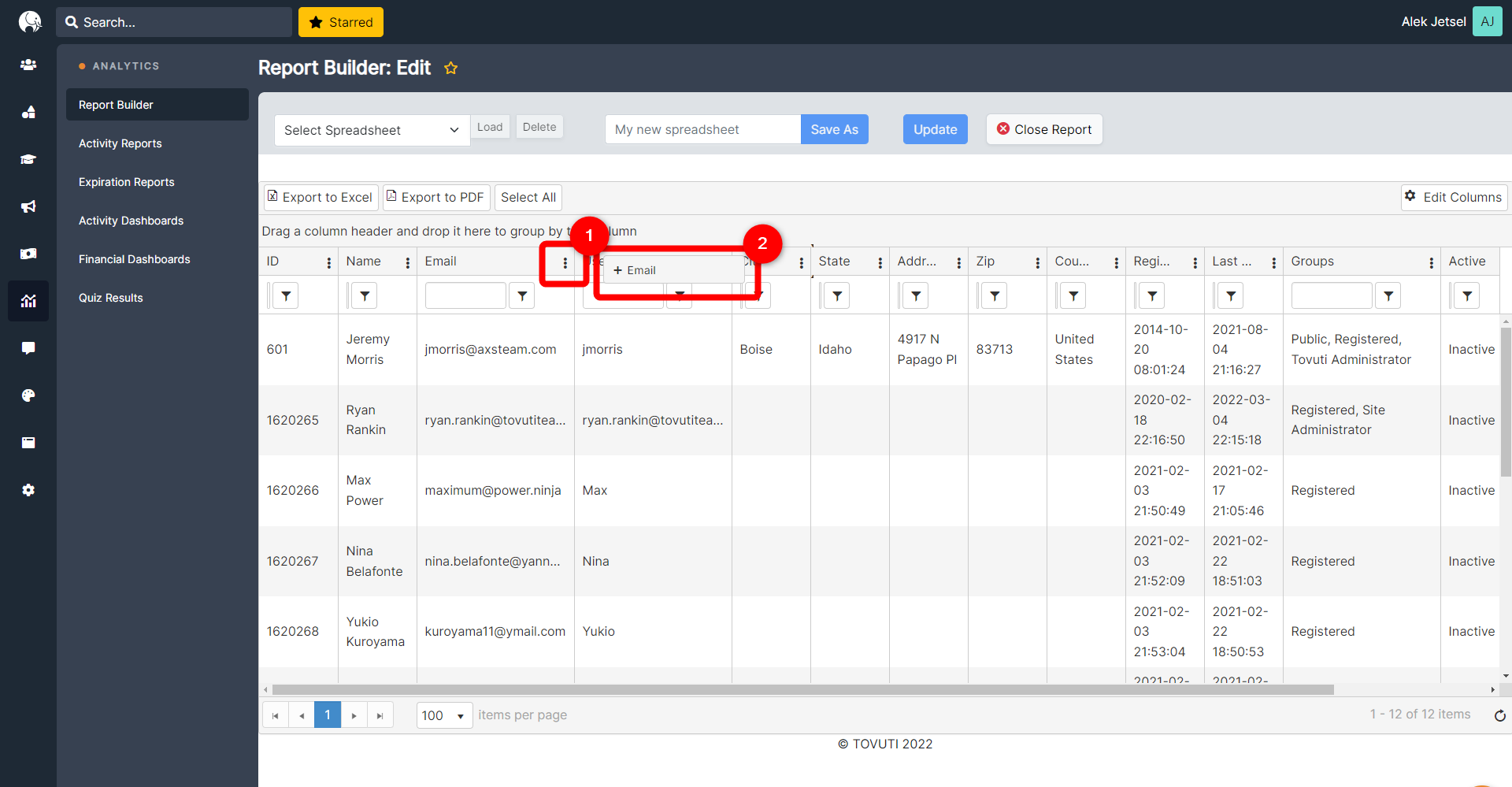 Columns can also be filtered to find the exact desired data. Click the "funnel" icon to access a list of filter options and type the keyword into the search bar of the column.
Reports update automatically based on the current data. An admin may save a report at any time to create a spreadsheet that shows the data from the saved date. This is helpful in pulling historical data without creating brand-new reports.
Type a name for the new spreadsheet in the My new filter field and click Save As.
Access the different saved spreadsheets in the Select Spreadsheet dropdown and click Load.